Separating sewage from rainwater
Benefits of a separated sewer system
Separating stormwater from wastewater is better because it:
Eliminates combined sewer overflow
Prevents flooding by increasing capacity
Allows stormwater to be used as a resource
We are working toward the Province of BC's environmental goal to eliminate sewage overflows by 2050. As we replace combined sewer systems with separated sewer systems, properties will also need to have separated sewer systems.
In a combined sewer system, stormwater runoff is combined in a single pipe with wastewater from homes, businesses, and industry.
During drier weather, the stormwater and wastewater are carried to the sewage treatment plant together. But in heavy rains, high volumes of stormwater can exceed the capacity of a combined sewer system. The excess, untreated amounts overflow and empty directly into our waterways.
How we prioritize sewer replacement
In a two-pipe separated sewer system, stormwater is collected through storm drains. It travels through different pipes than household sewage and other wastewater.
There are two sewer separation programs running concurrently. The overall sewer mains are being separated so that storm drains carry stormwater runoff separately from other wastewater.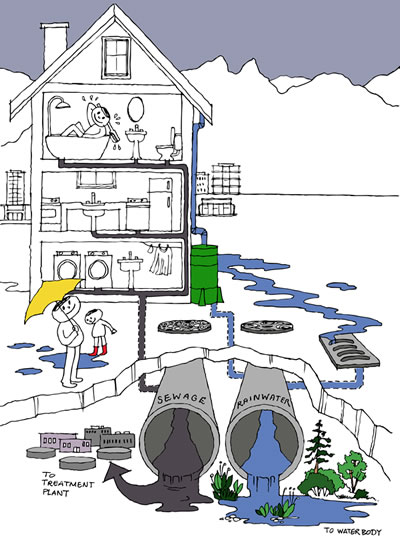 Similar work is being done to separate the sewer mains that serve private properties. This project focuses on smaller areas based on the following conditions:
There is a documented history of sewer line blockages that we were fully or partially responsible for
An indication that a managed sewer line maintenance program we implemented is no longer effective or has become exhaustive
The property owner has fully replaced the private property portion of the sewer line and reports that our portion is in poor condition
Where we have separated the sewer system
We have a separated sewer system in the following areas:
Downtown
West End
Fairview
Hastings
Killarney
Mt. Pleasant
Renfrew
Burrard Inlet and Fraser River shorelines
By 2020, we plan to install separated sewers in:
Grandview
Kitsilano
Point Grey
Shaughnessy
Sunrise
If you are a property owner in these areas, you will be notified when we begin to replace the sewer system in your area. You should plan to upgrade the sewer connection on your property at that time, at your own expense.
Sewer separation and renewal benefits and process
The City of Vancouver performs yearly sewer maintenance and sewer replacement, find out what to expect from construction in your area.
When the City of Vancouver installs separated sewers in your area, renew your home's sewer connection to be a part of it.