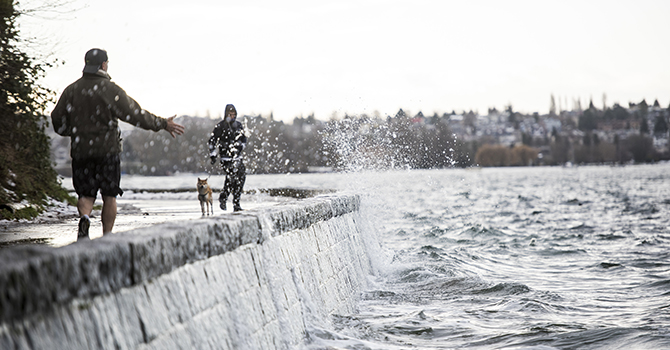 Healthy Waters Plan
Adapting and integrating sewage and rainwater management in Vancouver
In alignment with the Vancouver Plan's Policy Area 10: Watersheds and Water Resources, we are creating a long-range sewage and rainwater management plan to address a range of key issues, including:
Pollution from combined sewer overflows (CSOs), which occur when combined sewers are over capacity causing a mixture of rainwater and sewage to release into Burrard Inlet and other water bodies. Many pipe systems in Vancouver still transport rainwater and sewage in the same pipe.
The need for increased sewer capacity to accommodate population growth and development. Sewage includes all water that goes down the drain from household, industrial, and commercial activities.
Pollution from rain that lands on streets and other hard surfaces, picking up dust from vehicle tires and brakes, and other pollutants. This is also known as urban rainwater runoff.
Climate change impacts on our sewage and rainwater system, including more frequent and intense rain events, prolonged drought, and sea level rise
Aging infrastructure in need of repair or replacement
Partners
We work with Metro Vancouver to deliver sewage and drainage services to Vancouver residents and businesses. We manage local grey infrastructure, like pipes, that help manage sewage and rainwater. We also implement green rainwater infrastructure, which uses plants, trees, and soil to naturally manage rainwater.
Metro Vancouver manages the major regional conveyance pipes and wastewater conveyance treatment.
We are also collaborating with Musqueam Indian Band, Tsleil-Waututh Nation, and a diverse range of stakeholders from other levels of government and the community.
Guiding principles and goal areas
The first phase of engagement led to the development of guiding principles, goal areas, and objectives. These will be used to guide development and implementation of the Healthy Waters Plan going forward.
---
Timeline
April 2021 to December 2022

Current state assessment and strategic framework

December 2022 to February 2024

February 2024 to spring 2025

Finalize the adaptive plan

2025
What we've learned so far
The Foundations of a Healthy Waters Plan report summarizes the work completed in the first of a 3-phase planning effort to re-envision our sewage and rainwater management systems. (14 MB)
The Healthy Waters Plan is organized around the City's five main drainage basins and their associated receiving waters. The basin characterization maps summarize information specific to the lands and receiving waters for each of these basins. Receiving waters are waterbodies such as the ocean and creeks into which upstream waters flow. Upstream waters can be rainwater and groundwater, or water collected in sewer pipes. (8 MB)
Contact us
Related projects