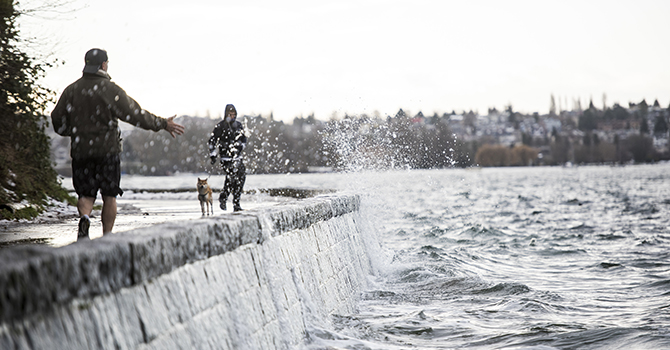 Healthy Waters Plan
Adapting and integrating sewage and rainwater management in Vancouver
In May 2020, Council directed staff to develop a comprehensive sewage and rainwater management plan (now called the "Healthy Waters Plan") to guide the long-range infrastructure investments, policies, programs, and partner collaboration work needed to address key issues:
Combined sewer overflows (CSOs) and polluted rainwater runoff from streets and properties limiting public access to water and impacting aquatic environments
Vancouver's sewage and drainage system needs sufficient capacity to accommodate population growth and development
The impacts of climate change, including the increasing intensity and frequency of rainfall events, sea-level rise and drought, which add further strain on sewage and rainwater management services
We're working with Metro Vancouver Regional District to provide sewage and drainage services, with the City providing local infrastructure servicing and Metro Vancouver managing regional conveyance and wastewater treatment.
We have also partnered with First Nations and engaged committees to develop goals, guiding principles, and objectives subject to council approval.
Guiding principles and goals
Phase one engagement led to the development of guiding principles, goal areas, and objectives in consultation with host nations, other levels of government, and stakeholders with an interest in sewage and rainwater management.
---
Timeline
June 2021 to June 2022

Current state assessment and priority action plan

July 2022 to March 2023

April 2023 to March 2024

Finalize the adaptive plan

2024
Contact us