Print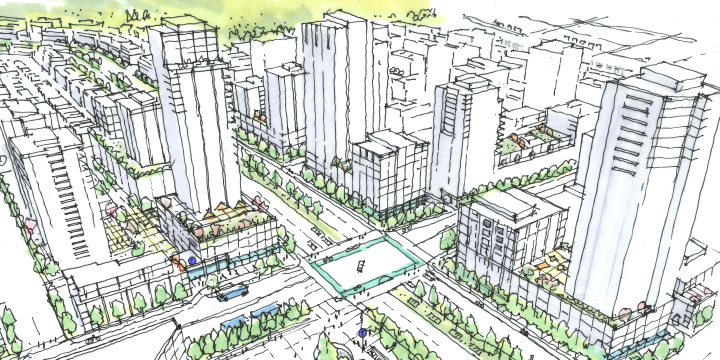 Cambie Corridor Plan
The Canada Line, and the land uses around it, plays a pivotal role in Vancouver's future. Already well-positioned in terms of amenities and services, the Cambie Corridor is a key component of a sustainable, livable city of neighbourhoods connected to convenient transportation alternatives.
The Cambie Corridor Plan is a framework to guide change and growth over the next 30 years. The Plan builds on the distinct character and context of the Corridor's neighbourhoods to create complete communities with places for current and future residents to live, work, shop, play, and feel part of a community.
The plan policies allows significant change in the Corridor over the coming decades and will, together with growth on Major Project sites, more than double the population and add over 30,000 new homes. This makes the Cambie Corridor the biggest growth area outside of Downtown.
Over the next 30 years, the Corridor will add:
Space for 9,200+ new jobs
Opportunities for multi-family housing on 2,000 single-family lots
New and vibrant public spaces, including 20+ acres of new parks
More than 5,000 secured rental units and 2,800 social housing units
A vibrant and enhanced Oakridge Municipal Town Centre
Key documents
The council-adopted versions of the Cambie Corridor Plan and associated Public Realm Plan can be downloaded below.
The Plan provides a framework to guide change and growth over the next 30 years in the Cambie Corridor.
The Public Realm Plan will guide the design of public and semi-public spaces and inform a sense of place throughout the Corridor.
A two-minute snapshot of the Plan and its long-term goals.
What's happening
New zoning approved
September 5, 2018 - Council approved the new RM-8A/RM-8AN zoning to enable the development of townhouses in select areas, as identified in the Cambie Corridor Plan and Grandview-Woodland Community Plan.
The areas for the first phase of City-initiated rezoning in the Cambie Corridor were determined through the Utilities Servicing Plan and include blocks located in Stage 1 of the planned utility upgrades.
Areas identified for townhouses in the Cambie Corridor Plan that are not part of this first phase of prezoning may apply to rezone to the new RM-8A or RM-8AN zone through a simplified rezoning process.
What we're focusing on in Phase 3
Phase 3 will develop an in-depth plan for the areas within walking distance of rapid transit and explore opportunities to:
Integrate more ground-oriented housing choices, such as townhouses and rowhouses
Create more housing options for families with children
Integrate an effective transition from apartment areas to surrounding lower-density neighbourhoods
Consider long-term redevelopment options for larger, unique sites within the Corridor (like the Balfour site and King Edward Mall)
Coordinate Phase 3 areas with major project sites (such as the RCMP lands and Langara Gardens)
Coordinate amenities and supportive funding strategies like Community Amenity Contributions
Also included:
A public benefits strategy to give strategic direction on community facilities, parks, childcare, affordable housing, and more
A public realm plan to guide outdoor public features like sidewalk improvements, landscaping, and plazas for key areas of the corridor
Where we're focusing
The overall Phase 3 study area is from West 16th Avenue to the Fraser River between Oak and Ontario streets.
However, our discussion of potential land use changes will be focused in key areas that are:
Within one block of Phase 2 areas
Adjacent to large sites like the RCMP lands and Langara Gardens
Unique and generally large sites like King Edward Mall
Located in the Marpole buffer area, a small area close to Cambie Street that was identified for future planning in the Marpole Community Plan
Located along Oak Street
The initial focus area will be refined through community dialogue and technical analysis early in Phase 3.
How we'll plan and engage with you
We'll be going out into the community and meeting residents, business owners, and anyone else interested in the future of the corridor to talk about options and hear your views.
Your ideas and feedback will be important in helping to shape the plan.
Step 1: Launch and early dialogue (spring to fall 2015)
In step one, we will:
Raise awareness about Phase 3 of the planning program
Seek community input on focus areas and explore early ideas for potential land use change and new housing options
Refine focus areas based on community input and analysis
Step 2: Policy development (fall 2015 to fall 2016)
In step two, we will:
Work with the community to explore policy options for focus areas and identify preferred areas for land use change and new housing options
Seek input on draft public realm plan directions and public benefits strategy
Step 3: Draft plan (fall 2016 to fall 2017)
In step three, we will:
Prepare draft directions for the plan
Invite you to review the proposed plan directions
Modify and refine the plan based on feedback
Step 4: Plan approval (late fall 2017/winter 2018)
In step four, we will:
Modify and refine the plan based on your feedback
Present the plan to City Council for consideration
Cambie Corridor Plan vision
The Cambie Corridor Plan sets out a long-term vision for growth that will give residents opportunities to live, work, shop, play, and learn in the area.
The plan also reflects a commitment to social diversity and addresses affordable housing issues.
To accomplish these goals, the plan envisions a denser mix of housing and work space with transit and cleaner energy sources. There will be a focus on key amenities, such as shopping, local gathering places, improved parks, community facilities, and civic spaces.
Job space will be focused strategically in neighbourhood centres, existing shopping areas, and areas located close to transit stations.
Cambie Corridor planning principles
Provide land use that optimizes the investment in transit.
Provide a complete community.
Create a walkable and cycleable corridor of neighbourhoods seamlessly linked to public transit.
Focus intensity, mix, and community activity at stations and other areas with strategic opportunities for sustainability, renewable energy, and public amenity.
Provide a range of housing choices and affordability.
Balance city-wide and regional goals with the existing community and its context.
Ensure job space and diversity.
Planning program phases
Phase 1: Planning principles and interim rezoning policy (July 2009 – January 2010)
Phase 1 delivered a set of planning principles (above) for the Cambie Corridor, as well as an interim rezoning policy, adopted by Council on January 22, 2010.
Phase 2: Core area development policy (January 2010 – May 2011)
Phase 2 produced the Cambie Corridor Plan, approved by Council May 9, 2011, and repealed the interim rezoning policy.
The plan includes policies on land use, design, and built form for sites along the Corridor's major streets.
Phase 3: Transit-influenced area policy (April 2015 - May 2018)
Phase 3 produced the new, comprehensive Cambie Corridor Plan (replacing the original 2011 Plan), approved by Council on May 1, 2018. Phase 3 built on Phase 2; it focused on land use and new housing opportunities for the surrounding neighbourhoods within walking distance of Canada Line stations (existing and future), and provided new affordable housing opportunities in strategic areas.
This phase also delivered:
A detailed public benefits strategy to guide the development of community facilities, parks, and childcare centres in the Corridor
The Cambie Corridor Public Realm Plan to guide public realm improvements in the Corridor, including pedestrian and cycling connections, plazas, and green infrastructure
Related projects
Contact us
Planning Information Line
– Vancouver South
604-873-7038 ext 3
Get updates