Heather Lands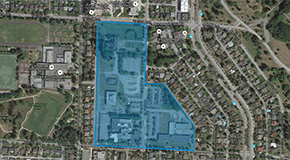 The Heather Lands are 8.5 hectares (21-acres) in size located between West 33rd Ave and West 37th Ave at Heather St.
In 2016, a comprehensive planning program was initiated to help create a policy statement to guide future development of the Heather Lands (previously referred to as the RCMP Fairmont Lands). The program was developed at the request of the landowners, the Canada Lands Company (CLC), and the Musqueam, Squamish, and Tsleil-Waututh (MST) Nations Partnership. The planning process offered many opportunities for residents, community members, and stakeholders to offer feedback and ideas.
Heather Lands Policy Statement
Council approved the Heather Lands Policy Statement in May 2018. The policy statement will guide future rezoning of the site by establishing principles and objectives relating to a range of topics, including:
Land use
Density
Height
Public benefits
Transportation
Built form and character
Heritage
Sustainability
Development phasing
While broad directions are confirmed in the policy statement, refinement of the proposal will occur in the rezoning stage.