Print

East Fraser Lands (River District)
We're developing a new sustainable, complete community at East Fraser Lands (EFL). The plan calls for a mainly residential community with a variety of housing types and a commercial centre.
While the site was previously home to the Canadian White Pine, Wesgroup Properties (formerly Parklane Homes) now owns the majority of the land.
A complete community
Over 25 years the community will include:
Parks
A community centre
Schools
Childcare facilities
A riverfront walk
Other public amenities
What's happening
On June 14, 2017, City Council voted to endorse a planning program to review and update the EFL ODP to reflect:
New Council policy and standards
Changing environmental conditions due to climate change
Delivery of public benefits
Options to increase housing diversity in Area 3
Broader changes to the EFL ODP and corresponding CD-1 Bylaw amendments will be presented for Council's consideration at the end of the ODP review process.
If approved, they will be used to inform ongoing implementation of EFL and future rezoning of Area 3.
EFL amendments for community centre site and affordable housing
Changes to the EFL ODP and CD-1 bylaws are being recommended to Council before the end of the ODP review process, to allow for:
Redistribution of existing floor area to achieve a larger, standalone site for the community centre
An increase in the maximum floor area to add 5,129 square metres of affordable housing in Area 1 and 2
Remove EFL-specific parking maximums to align with citywide regulations
Extend the time limit and clarify extensions for interim uses in EFL
Add details on the EFL-specific flood construction level to the EFL ODP
On July 24, 2018, Council referred these amendments to Public Hearing.
If approved, these amendments support continued development of a complete community in EFL, allowing for the opportunity to achieve a new, standalone site for the EFL community centre, and supporting the development of affordable housing on City-owned sites.
Get updates
Contact us
Area map
There are 126 acres of industrial land south of Marine Way and east of Kerr Street to Boundary Road.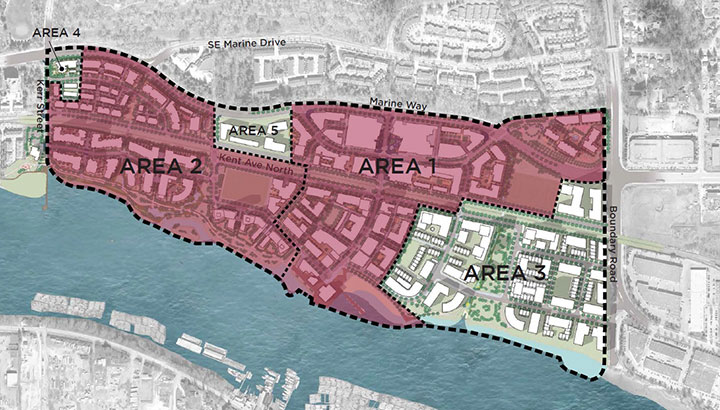 Development progress
Area 1, Area 2, and Kerr Street were rezoned in 2008 and 2010 respectively. Since then a number of development parcels have been completed or are under construction. The map below highlights development progress to date. View the map in full size

(604 KB)
Find information on current development applications and Development Permit Board reports.
Additional information
View updates on the development of East Fraser Lands (River District) from 2004 until now.
View the policies, guidelines, and Council minutes that have shaped East Fraser Lands (River District).
Related projects
Timeline
Here is our process and anticipated milestones for the EFL ODP 10-year review planning program.
2016-2017

June 2017

Summer 2017

Phase 1: Establish planning program

Fall 2017

Phase 2: Develop options to address challenges

Winter 2017/2018

Phase 3: Refine concepts for EFL

Early Spring 2018

Phase 3: Confirm preferred concept + proposed ODP amendments

Spring 2018

Finalize interim ODP amendments and amendments to CD-1 Bylaws and Design Guidelines for a new, larger community centre site + affordable housing

Summer/Fall 2018

Council consideration of amendments: referral and Public Hearing

Winter 2018

Finalize broader ODP amendments

Spring 2019

Council consideration of amendments: referral + public hearing