Print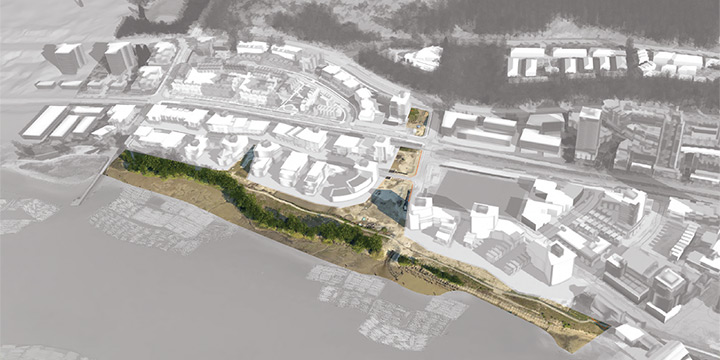 East Fraser Lands (EFL) parks
East Fraser Lands (EFL) is being developed by Wesgroup to house up to 12,000 new residents in the coming decades.
To compliment this development, the Vancouver Park Board is committed to designing and constructing 25.2 acres (10.2 ha) of parks within the community – approximately 20% of the land area.
In 2016 and 2017, the Park Board undertook a community engagement process for 7.8 acres of these parks including Foreshore Park, Kinross Park, and Neighbourhood Park South. The designs were approved by the Park Board in late 2017 and the detailed designs evolved through 2018.
Construction of Neighbourhood Park South will begin in spring 2019. Foreshore Park and Kinross Park require further coordination with the developer (Wesgroup) and the acquisition of permits from the Province of BC prior to commencing construction. The Park Board is hopeful construction can begin on these parks in early 2020.
What's happening?
Project process and design summary
Read the summary document for information regarding the entire design process and preferred design directions for the parks moving forward.
Past updates
September 2017
We held an open house on September 9, 2017 for you to view revised designs for future park lands and complete a questionnaire.
The latest designs include the areas in the:
East Fraser Lands
Foreshore Park
Kinross Park
Neighbourhood Park South
The designs are the result of an earlier open house that the Vancouver Park Board hosted in October 2016. They include strategies related to flood protection and future sea-level-rise.
View the open house board

(8 MB)
Thank you to everyone who participated.
Read the open house results

(149 KB)
October 2016
We held an open house on October 15 for you to learn about:
Project process and background information
Draft design principles and site analysis
Concept design options
Ideas for things to do, see, and experience in the parks
Precedent imagery ideas
View the open house information displays

(10 MB)
As well, we asked what you thought about the draft principles and design options for the parks in an online questionnaire from October 14 to 31. Thank you to everyone who participated.
Read the feedback summary

(675 KB)
Project timeline
Here is our process and anticipated milestones.
2004-2015

Develop East Fraser Land design guidelines through design workshops, public events, and work by staff and consultant teams

2010-2012

Build Neighbourhood Park North

October 2016

September 2017

November 2017

Design approved by Park Board

2018

Prepare construction drawings and specifications based on the preferred concept

2019-2020
Contact us
Joe McLeod
Landscape Architect
3-1-1