Oakridge Centre redevelopment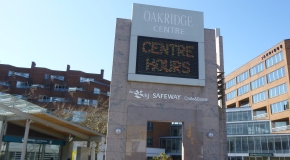 QuadReal Property Group and Westbank Development, the owners of Oakridge Centre, are moving forward with the redevelopment of the Oakridge Centre, based on the rezoning that was approved in 2014.
The Oakridge Centre is currently home to shops, services, offices, and community and residential space. Many of the shops and services will remain open throughout the redevelopment. The current site design reflects a number of refinements responding to conditions of the 2014 rezoning and policy changes that have emerged since Council approved the rezoning of the site.