Print
Joyce-Collingwood Station Precinct Review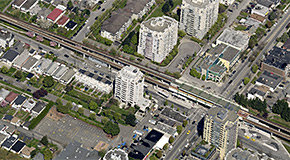 Photograph by Pictometry International Corp.
Summary of the draft plan
By City of Vancouver
Download the summary: English version (2 MB), 中文版 (3 MB)
The City is reviewing the area around Joyce-Collingwood Station to:
Update policies adopted in 1987 as part of the Joyce Station Area Plan
Consider changes to the area's sidewalk, road, and cycling networks that respond to upgrades at the SkyTrain station and bus exchange
As part of the review, we will explore:
Land use, density, and building forms
Transportation - improved safety and connections for people walking, cycling, driving, and taking transit
Improved public spaces
Amenities needed to support additional population
What is the plan?
The Station Precinct Plan will encourage more transit-supportive, mixed-use, walkable development around the SkyTrain station.
New building forms will unify the blocks immediately around the station with Collingwood Village and transition from taller buildings at the station down to the single-family areas.
Improved pedestrian linkages and expanded opportunities for an active local shopping street will create a more physically and socially connected neighbourhood.
See a model that shows the future buildout of the station precinct area in the draft plan.
Get updates
Learn about station upgrades
Visit TransLink's project webpage