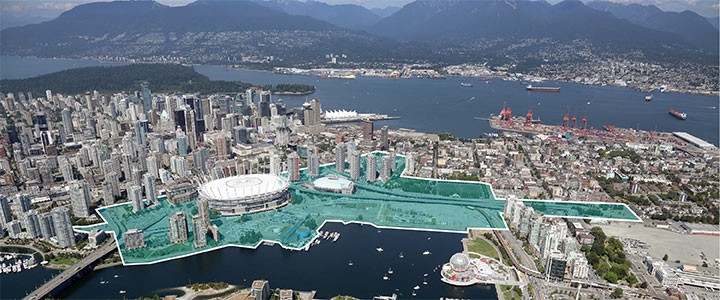 The future of Northeast False Creek
The Northeast False Creek Plan (NEFC Plan) sets the long-term vision for the last remaining piece of large undeveloped land in the downtown along False Creek.
The final plan for Northeast False Creek proposes:
A new vibrant waterfront destination with amenities including childcare, social housing, artist space, plazas, an ice rink, and a cultural centre
Opportunities for community and social development, including 1,800 units of social housing
32 acres of new and renewed parks and open space
Replacement of the viaducts with an at-grade street network that will connect Northeast False Creek to the downtown core
Read the plan (23 MB)
What's happening?
Development permit board approved
Sub-area 6B: Plaza of Nations (750 Pacific Boulevard)
The Development Permit Board approved the preliminary development application submit by James KM Cheng Architects on behalf of Canadian Metropolitan Properties to develop NEFC Sub-area 6B (750 Pacific Boulevard) on August 4.
Contact us