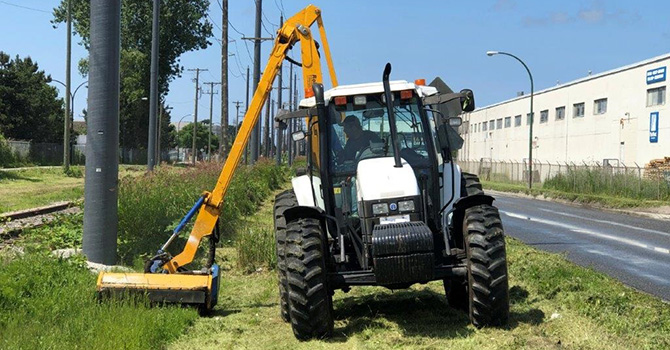 Vegetation management
Protecting birds and bird nesting
Protecting birds and bird nesting is an important consideration in the timing of our work. (9.5 MB)
The primary nesting season for breeding birds in Vancouver is between March and mid-August, which aligns with the primary vegetation season.
As the work is planned, we assess for any nesting areas and plan work around that time.
We manage vegetation at a number of locations on City rights-of-way each year. This involves trimming and cutting blackberry bushes, branches, hedges and shrubs that obstruct greenways, sidewalks, and roadways.
This work begins in late May each year starting in the northeast section of the city and proceeds south, finishing on the west side in late August.
Planned vegetation management map
This map provides details on the vegetation management locations throughout the city and the planned completion timing and status.
Click on the areas of the map highlighted in yellow to find the vegetation trimming schedule.
Dates are shown as a guideline only. Check back often for schedule updates.
This map does not include vegetation managed by the Vancouver Board of Parks and Recreation.
Procedures
"No Parking" signs are posted one day prior in the area requiring vegetation management.
Roadways may be closed temporarily while cutting is in progress. A traffic control setup may also be in place to ensure the safety of the public and our crews.
We use a tractor with a flail mower, a skid steer mower, line trimmers, and hedge trimmers to remove vegetation.
Trimmings are typically left on site after cutting to help restrict Japanese Beetle movement from regulated areas and to let the trimmings act as a natural fertilizer for the soil.