Print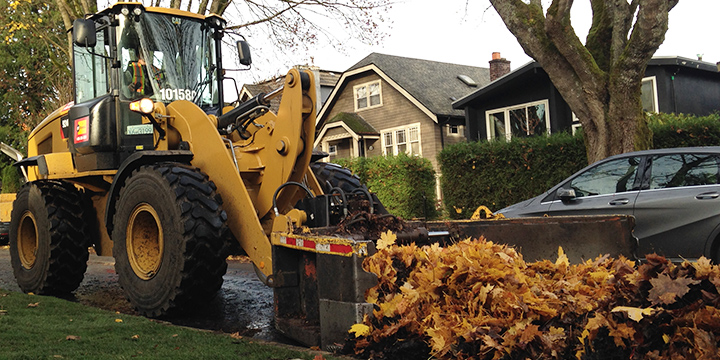 Leaf removal from City streets
Our crews remove leaves from streets on a regular basis between November and January, once most leaves have fallen.
Leaf collection starts Downtown and proceeds south.
Area schedules
How to use the map
Click on the zone where you live to see the leaf removal dates.
Advance sweeping (before the listed dates) may occur in areas where there is a heavy accumulation of leaves.

Dates shown are a guideline only. The schedule can change as a result of unexpected weather, road conditions, and available trucks and crews. Check back often for schedule updates.
Move your vehicle on leaf removal day before 7am

If temporary "no stopping" signs are posted on your side of the street, please move your vehicle before 7am on the date marked on the sign.
Moving your vehicle helps our crews to better remove leaves.
Vehicles parked in street leaf cleaning "no stopping" zones will be issued a fine of $100 ($60 discounted penalty if paid within 14 days) and will receive a courtesy tow to a nearby location.
How we collect leaves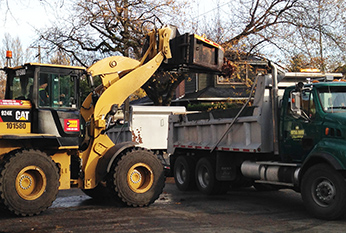 A front-end loader gets a head start on collecting most of the leaves from your street. If your street has many parked cars and accumulates a lot of leaves, crews will return at a later date for a more thorough sweep.
For streets marked for an extra sweep, temporary "no parking" signs are posted on one side of the street at a time. The signs show a date for when a mechanical street sweeper will remove the remaining leaves.
A sweeper takes two consecutive days to collect leaves, one day for each side of the street.
We do not clear leaves from sidewalks.
Seasonal residential leaf collection
Put leaves into your green bin. If you have extra, add them to paper yard waste bags for pickup on designated weekends.
Report flooding
Report non-emergency flooding on city streets and sidewalks using the VanConnect app.
Keep roads safe
Piles of wet leaves create slippery road conditions, block visibility, and flood drains and nearby areas.
Be a good neighbour: please remove leaves around storm drains.
Raking or blowing leaves onto the street is a fineable offence under the Street and Traffic By-Law (up to $10,000).