Energy benchmarking for large buildings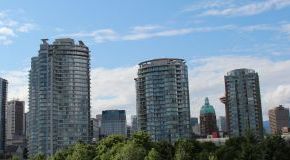 Energy benchmarking tracks and records a building's energy use and compares it with that of other buildings similar in function. This process is a key component of the City's Retrofit Strategy for Existing Buildings.
Did you know that building operations and industrial processes creates 55 per cent of Vancouver's greenhouse gas emissions (GHGs)?
That is why energy retrofits to buildings are key to achieving our goal to reduce citywide GHGs by 33 per cent from 2007 levels by 2020. 
Energy Benchmarking Program
Through this program, the City will collect benchmarking data from:
Its own buildings
Voluntary participants, primarily large public sector/institutional, commercial, and residential buildings
This data will help the City develop programs and policy to support energy retrofits and measure the performance of our building code.