Book a free home safety check
What is a home safety check?
A home safety check is a visit that is requested by a tenant or owner. Vancouver firefighters will perform the free check and provide advice on how to make your home safer.
Do you qualify?
Every Vancouver resident, tenant, and property owner can request a free home safety check.
What happens during a safety check?
Firefighters come to your home and look for things that may be a safety hazard. They show you how to make changes that would reduce those hazards and keep you and your family safe.
You'll also learn how to test and maintain your smoke alarms.
Firefighters remain on call and, in the event of an emergency, they may have to leave during the safety check, but they will return at a later time.
Fire safety in Vancouver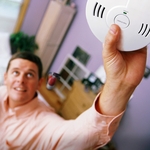 The top five causes of fire in Vancouver are: cooking, electrical issues, smoking, candles, and arson.
On average, each year our city has 4 deaths and 49 injuries related to fires.
Over the past five years, there has been approximately $25 million in fire damages in Vancouver.