2014 Urban Design Awards winners and jury
2014 recipients
The first-ever City of Vancouver Urban Design Awards were held in 2014.
We recognized the following projects for their outstanding contribution to visionary thinking and design excellence.
Small residential buildings
Cloister House
Firm: Measured Architecture Inc.
Cloister House combines a passion for architecture with a commitment to sustainable construction.
Not only were more than 90% of the materials from the original building on the site successfully salvaged, but many of those materials were cleverly and artfully repurposed in the construction of the new house.
Medium residential buildings
Monad
Firm: Lang Wilson Practice in Architecture Culture
Monad introduces a systematic and scalable approach to choice and flexibility in urban living, and to variety and differentiation in urban form.
Located on 4th Avenue in Kitsilano, the project exhibits design innovation through its livability, flexibility, choice, sustainability, compactness, affordability, prefabrication, social connection, and strategic spatial qualities.
Large residential buildings
6th & Fir – A Bridgehead Interface
Firm: Henriquez Partners Architects
Developer: Westbank Projects Corp.
Landscape architect: Durante Kreuk Ltd.
6th and Fir offered many challenges. The "orphaned" property is bordered by a Granville Street Bridge off-ramp. It is surrounded by light industry and low- to mid-rise residences. In its former life, it was an impromptu parking lot and pedestrian shortcut.
The slim, curved tower was shaped by the very unique site and its constraints. The creative design provides continuity between the courtyard and sidewalk, inviting and drawing in passersby to the mews.
Commercial buildings
Cactus Club Cafe, English Bay
Firm: Acton Ostry Architects Inc.
Cactus Club Cafe at English Bay Beach was constructed to replace the existing Vancouver Park Board concession stand, next to the existing historic bathhouse.
A narrow footprint and large windows provide ample natural daylight as well as generous views to the spectacular English Bay setting.
The building perfectly reflects its stunning location.
Government and institutional buildings
York House Senior School
Firm: Acton Ostry Architects Inc.
York House Senior School provides a new identity and celebrated entry point for the greater York House School campus.
The soaring glazed portal and sky-lit atrium create a dynamic crossroads on the campus, and incorporate social and study spaces that inspire.
Urban elements
1025 Robson St canopy
Firm: 8 inc., design architect; Francl Architecture Inc., architect of record
The canopy at 1025 Robson is a very practical element that is deeply relevant to Vancouver pedestrians.
The canopy elegantly frames the space beneath and is thoughtfully designed to conceal inevitable wear and weathering, and provide shelter.
Innovation
Paris Block: Paris Annex
Firm: Gair Williamson Architects with Ankenman Marchand Architects
Paris Block: Paris Annex represents a project that benefited from the Heritage Building Rehabilitation Program, which nurtured heritage retention through higher density and property tax relief.
Its innovative design links the existing heritage building with a new addition, creating a combined, hybrid project.
Outstanding sustainable design
Union Street ECOheritage
Firm: Shape Architecture Inc.
Developer: Karli Gillespie and Dick Hellofs
This multifamily residential complex balances heritage retention with super-high energy efficiency. It is built to LEED Platinum standards, and has an EnerGuide rating of 88.
The seven densely-arranged modern townhouses coexist with an unprecedented low-energy footprint.
Landscape, public space, and infrastructure
Jericho Park Restoration
Firm: Sharp & Diamond Landscape Architects
Jericho Beach Park is one of Vancouver's most active and lively waterfronts – the site of: festivals, the Jericho Sailing Centre, large open spaces, and public access to an extremely popular beach.
The Jericho Beach Restoration Project returns almost 150 linear meters of foreshore to accessible beach.
Special Jury Awards
Architectural design excellence and innovative systems integration
Monad
Firm: Lang Wilson Practice in Architecture Culture
The Monad project, also recognized in the medium residential buildings category, deserves additional commendation for its sustainability, masterfully-handled spatial design, and an ambitious venture into prefabrication.
Architectural design excellence and innovative community densification
Union Street ECOhertiage
Firm: Shape Architecture Inc
Developer: Karli Gillespie and Dick Hellofs
The Union Street project is not only sustainable, but is also a beautifully-designed, intelligent project. It retains character buildings and adds density without disrupting the existing urban pattern.
This project serves as a model for creating high-density single family neighbourhoods in Vancouver.
Reinforcing community through collaboration and social innovation
60 West Cordova
Firm: Henriquez Partners Architects
Developer: Westbank Projects and Vancity
Team: PHS Community Services, Habitat for Humanity
The 60 West Cordova project is recognized for the sincere commitment of the owner / developer and innovative approach taken in order to provide affordable home ownership in the Downtown Eastside.
This project is driven by inclusivity, giving preferential access to ownership to people who live, work or volunteer in the Downtown Eastside.
2014 jury
Urban Award recipients were selected by an independent jury.
Peter Wreglesworth Architect AIBC, FRAIC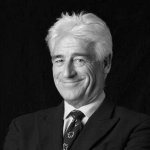 Senior Principal, Sector Leader, Commercial Development
Stantec Architecture
Peter Wreglesworth is a senior principal with Stantec Architecture with over 40 years of industry experience. He has had a continuing evolution of his career, from being a senior associate in Winnipeg with Smith Carter, principal of his own firm, a principal and director of Smith Carter, and in Vancouver with Aitken Wreglesworth Associates and Architectura.
Peter has served on the Vancouver Urban Design Panel for four two-year terms, where he has served as chairman, and an advisory member of the Development Permit Board. He holds memberships in the Architectural Institute of British Columbia, the International Council of Shopping Centers, the Society for College and University Planning, and the Urban Land Institute (ULI) – BC Chapter where he has recently accepted the position of chair – mission advancement.
Peter is an active student mentor in the UBC School of Architecture Mentor-ship program. He was elected a Fellow of the Royal Architectural Institute of Canada in 1994.
David Dove MRAIC, Architect AIBC, LEED AP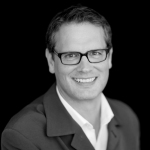 Corporate, Commercial, Civic Market Sector Leader
Perkins + Will
David leads the Corporate + Commercial + Civic market sector at Perkins + Will's Vancouver offices. With more than 18 years of experience, David has worked across a broad range of disciplines ranging from interior design to architecture to large-scale infrastructure and urban planning.
His projects have received recognition for their innovative design and achievements in environmental performance, including numerous LEED certifications and an AIA/COTE Top Ten Green Project award for the City of White Rock Operations Building.
David has lectured widely on issues of sustainable architecture, transit-oriented development and the work of his office. He has taught for the Royal Architectural Institute of Canada and the University of British Columbia.
Greg Bellerby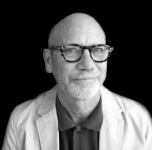 Former Director/Curator
Charles H. Scott Gallery, Emily Carr University of Art and Design
Greg has been a curator and gallery director for over 30 years and has organized well over a hundred exhibitions of Canadian and international artists, architects and designers, and has written and published many catalogues on their work. Included among his many noteworthy achievements are solo exhibitions by Cai Guo-Qiang, Fred Hollingsworth, Ian Wallace, Mary Kelly, John Lautner, Julius Shulman, Medrie MacPhee, and Peter Cardew.
Greg has also curated many theme-based group exhibitions such as Vancouver Perspective, which featured the work of twelve of Vancouver's top women artists and toured Japan and Taiwan. At the 10th Venice Biennale of Architecture, Greg was the commissioner and co-curator of Canada's official representation, Pechet and Robb's SweaterLodge.
The Royal Architecture Institute of Canada honoured Greg with an Advocate of Architecture Award of Excellence for his outstanding and long-term commitment and contribution to the elevation of architecture in the public realm.
Joseph Fry BCSLA CSLA ASLA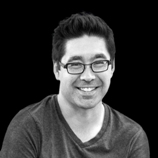 Principal
Hapa Collaborative
Joseph Fry is the principal and owner of Hapa Collaborative. He has 20 years of landscape design, urban design, site construction, and project management experience regionally, nationally, and internationally. His work spans the full spectrum of the profession including large-scale master planning, landscape urbanism, commemorative landscapes, integrated landscape and public art projects, detailed design, and construction supervision.
Past works include civic and residential landscape architecture in Vancouver, Portland and Seattle, urban design projects in Malaysia and China, and water feature design and construction projects throughout North America.
Joseph is the past chair of the City of Richmond's Advisory Design Panel, an active member of the BC Society of Landscape Architects, and a volunteer with the Japantown Commemoration Project in Vancouver's Powell Street neighbourhood.