Print
Green Bin Program: Prepare food scraps and yard waste for collection
If every resident in Vancouver recycled food scraps for a whole year, we'd remove 5,500 trucks worth of food scraps from the landfill.
Live in a house or duplex?
You can put all your food scraps, plate scrapings and food-soiled paper in your Green Bin for weekly collection.
Live in a multi-unit building?
Apartments, condos, or mixed-use (commercial and residential) buildings that already receive City garbage and yard waste collection service may also be suited for City food scraps collection.
Learn more about food scraps collection for multi-unit buildings
Recycle and dispose of items the right way with Waste Wizard
Enter an item below to see how to recycle or safely dispose of it.
Accepted items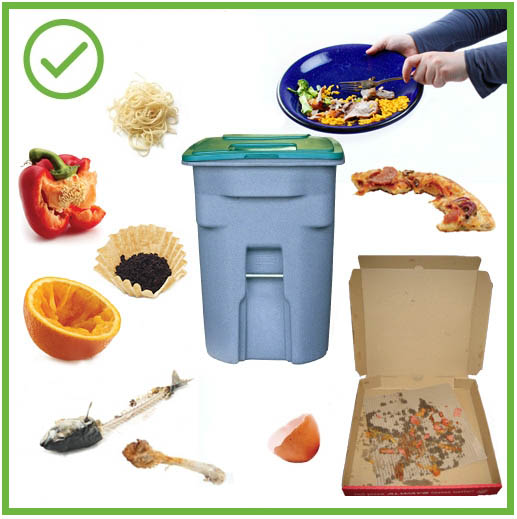 Food scraps
Dairy products, including cheese and yogurt
Egg shells
Fruit and vegetable scraps
Meat, bones, fish, and seafood shells
Noodles, rice, beans, grains, and bread
Plate scrapings
Small amounts of oil and fat (soaked in paper towel or newspaper)
Teabags, coffee grounds, and filters
Tissue paper (no blood or fecal matter)
Food-soiled paper products
Empty cereal boxes (no plastic liners)
Paper bags (for lining kitchen containers, such as Bag-to-Earth)
Paper napkins
Parchment paper, wax paper, and waxed cardboard
Pizza boxes
Newspaper (for wrapping food scraps or lining kitchen containers)
Used paper dishes (no plastic coating)
Yard trimmings
Leaves and grass clippings
Short branches and prunings (under 10 cm thick and 50 cm long)
Weeds, plants, and flowers
Not accepted items
Fecal matter
Large or heavy items
Branches or prunings over 10 cm thick and 50 cm long
Lumber or other wood products
Rocks, soil, or sod
Plastics
Compostable or biodegradable plastic bags
Plastic bags, wrap, or containers
Products made of Polylactic Acid (PLA) (containers, disposable plates, cutlery)

If we find banned items in your Green Bin, your food scraps and yard waste may not get collected. Please remove any banned items so we can pick up your Green Bin next time.
Have extra yard trimmings that won't fit into your bin?
Here are some options.

If your Green Bin is overflowing, our crews may not collect it. Please make sure the lid on your Green Bin can fully close.
Preventing food waste in your home
Our region throws out 13,000 tonnes of healthy, edible food every year
What about all that effort, water, and energy spent to grow, process, package, and transport this food? Wasted.
And that food rotting in our landfill? Creating methane, a powerful greenhouse gas.
Stop wasting food in your home. Learn how on Metro Vancouver's Love Food Haste Waste website
Make a kitchen container liner in 5 easy steps
Use our Green Bin origami guide to make a liner for your kitchen container.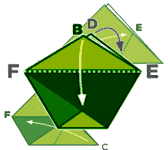 Download the instructions
Find information on ways to prevent odours and pests related to food scraps and yard waste.
Get the garbage, recycling, and green waste supplies that you need, including stickers for extra garbage. Change the size of your bins.