Print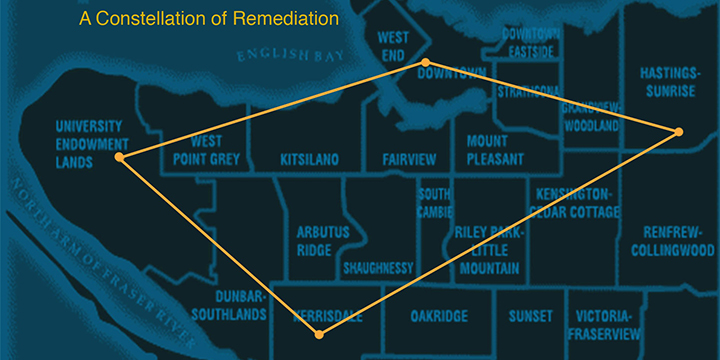 A Constellation of Remediation
To clean toxins in the soil and to facilitate the process for communities to heal and repair contaminated sites together.
A Constellation of Remediation is a two-year long public art project by T'uy't'tanat-Cease Wyss and Anne Riley that includes the planting of Indigenous remediation gardens on vacant and untended lots on the unceded homelands of the xʷməθkʷəyə̓m (Musqueam), Sḵwxwú7mesh (Squamish), and səlilwətaɬ (Tsleil-Waututh) nations.
A Constellation of Remediation was selected as part of the Public Art Program's 2017 Artist-Initiated Public Call.
Constellation of sites
The artists chose the constellation of sites based on the significant decolonization work near these locations through the work of the Native Education College (NEC), Urban Native Youth Association (UNYA), and the Wild Salmon Caravan residency and Working Group on Indigenous Food Sovereignty.
The artists' ongoing conversations with developers, City and Parks staff, and the public are an integral part of the project, a process that builds connection while also shifting consciousness and awareness about bioremediation, and land-stewardship.

Southwest corner of Hastings St and Commercial Dr
The artists will develop a remediation garden at a former gas station lot and future home of a new Urban Native Youth Association facility .
Southwest corner of 5th Ave and Brunswick St
Artists will remove invasive species and replace them with Indigenous plants at an over-looked triangular parklet owned by Aragon Properties Ltd a block away from Native Education College where the artists are based as Artist Fellows.
Strathcona Park fieldhouse, 857 Malkin Ave
Pollinator plants with a relationship to salmon will be planted in collaboration with Dawn Morrison and the Wild Salmon Caravan residency and Working Group on Indigenous Food Sovereignty.
What's happening
Seeding
At the UNYA location (Commercial Dr and Hastings St) soil has been spread over the site to support the seeding of Indigenous pollinator plants to create a field of flowers for the pollinators to be nourished.
A circular medicine garden will be added to the centre of the lot, which will include tobacco and medicinal plants.
---
Bioremediation workshops
In partnership with UNYA, the artists will be inviting Indigenous youth to seed the Hastings St and Commercial Dr site with seeds mailed to them as part of a series of online bioremediation workshops facilitated by the artists.
---
Planting
While maintaining the site at 5th Ave and Brunswick St, the artists are removing invasive species and while adding some Indigenous plants to the site. They are also adding logs inoculated with mushrooms to the site to foster seeding.
---
Postcards
The artists are creating A Constellation of Remediation postcards with a poem or note related to the project, and invite the public to send in their mailing address if they would like to receive one. If you are interested, email publicart@vancouver.ca.
About the Artists
T'uy't'tanat-Cease Wyss
T'uy't'tanat-Cease Wyss is an ethnobotanist, media artist, educator, and activist of Skwxwu7mesh/Stó:lō/ Hawaiian/Swiss ancestry. She has been traditionally trained by Indigenous knowledge keepers and Elders. She has been a practicing media artist for over 25 years, producing work nationally and internationally.
Anne Riley
Anne Riley is an emerging Interdisciplinary Indigenous artist of Slavey Dene (Fort Nelson First Nation) and German ancestry. She has lived as a visitor in the unceded territories of the Coast Salish for the past seven years. She spent the summer of 2017 at the Tu'wusht Healing Garden at the UBC farm conducting her practicum for the Family and Community Counseling program at the Native Education College.
A Constellation of Remediation
By City of Vancouver