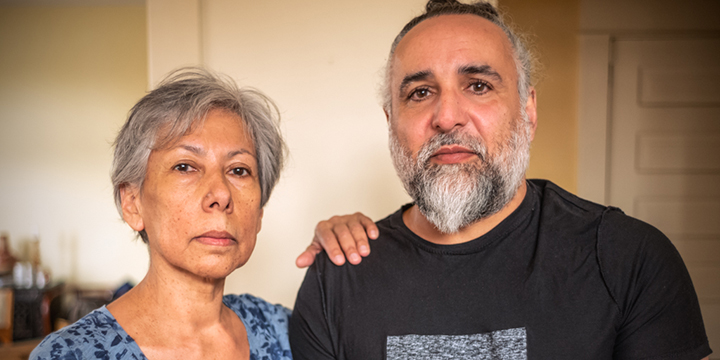 Adrift by Rebecca Belmore and Osvaldo Yero
Rebecca Belmore and Osvaldo Yero describe their project as, "… a sculpture, a skeletal form of a boat seemingly made of metal and bone."
In partnership with the Vancouver Public Library (VPL), we've commissioned a new public artwork. Titled Adrift, the new sculpture by Rebecca Belmore and Osvaldo Yero is suspended in the double-height skylit space between floors eight and nine at VPL Central Library.
Made of polished cast stainless steel and translucent cast resin, the sculpture suggests the skeletal form of a vessel or a boat fashioned from pieces of driftwood. The cast resin ribs of the boat's hull also create the notion of fossilized bones. Seeming to float in the vaulted space, the new artwork is viewable from multiple vantage points - from below on floor eight and from above and the sides on floor nine.
The sculpture connects to the foreshores of the region: the boats used for trade, fishing, and connecting communities on these lands and waters since before recorded history, and the continuing significance of boats and travel to the histories, myths, and narratives told in cultures across the world.
What's happening
Join the official celebration
The artists and special guests will offer remarks for the public to mark this occasion.
Thursday, November 14, 4:30pm to 5:30pm
Central Library, 350 W Georgia St, Grand Staircase, Level 8
A boat or a carcass?
"Adrift, suspended beneath the light of the sky silently asks the question – a boat or a carcass? The disparity between these two entities, a boat as an empty vessel and a carcass as evidence of death is a signal of the uncertain future that we all face together.
"The unsettling nature of this sculpture hangs in the air, resting somewhere between our limited understanding of our ancient past and our inability to predict what is to come in time." ~ Rebecca Belmore and Osvaldo Yero
Adrift is a visual icon, a metaphor, encompassing our histories as well as the current vulnerability and troubled connection to the earth.
A vessel, site of working, warring, displacement, a life raft, survival
Adrift, at sea, afloat; a site of stories, imagination, dreams, troubles, and transformations
A means of conveyance, between places, states of being, a connection between the water and the land
A skeleton, carcass, spine, ribs; a fossel from the ancient past; a withered vessel holding time, history, culture, nature, life and death
A harbinger, a warning, a hope
Adrift
By City of Vancouver