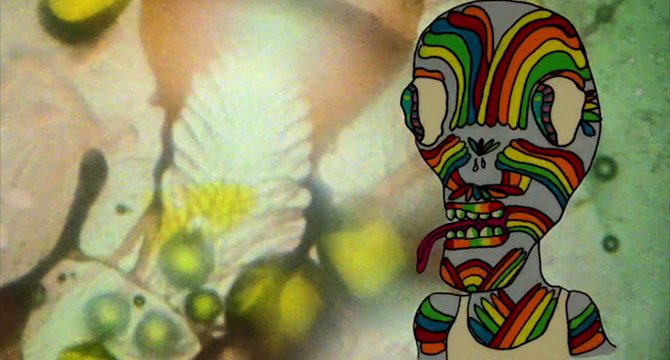 Phoebe Parsons, Terror Fervor, 2019, animation still
Platforms 2020: Public Works
Platforms 2020: Public Works is a monthly series of public art projects being presented from June until the year's end.
Public Works highlights the crucial role of art in our community by sharing the artworks of Vancouver-based artists who continue to work from their living rooms, bedrooms, and on the streets of the city at this critical moment.
The public art program is being launched on transit shelters, billboards, and video screens throughout the city.
Current project
Platforms 2020: October 5 to November 1
Pandemic Lip Reading
Pandemic Lip Reading (2020) is being presented on a billboard on Helmcken St near Granville St. Growing up, Landry was taught to assimilate and pass as a hearing person by relying on visual cues such as reading lips.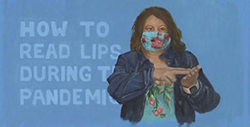 With health measures such as personal protective equipment in place the artist can no longer accommodate the hearing world. This piece shows Landry's difficulties navigating the pandemic as a Deaf person, and the hope that we can collectively adapt to new ways of communicating that go beyond hearing.
Laurie M Landry, Pandemic Lip Reading (2020),
painting
---
Isolated
Isolated (2020) presented on transit shelters throughout the city are drawings by Wen Wen Lu that the artist began when isolation measures were first introduced.
They became a way of exploring day-to-day changes and documenting thoughts, observations, feelings, or imaginings during the pandemic. Isolated is an expanding visual record, proving heavier as each day passed and more united as the weeks accumulated.
Wen Wen Lu, Isolated (2020),
illustration
---
Narratives from the Emptiest Place
Presented on the VanLive! screen at Robson St and Granville St is Rina Lyshaug's video Narratives from the Emptiest Place (2019). In this piece, Lyshaug reflects on home as a site for the intervention of the imaginary by presenting an image of a room that challenges the physical boundaries of space.
Rina Lyshaug, Narratives from the Emptiest Place (2019),
still from split screen video
---
Dobby and the Rest of Us, Distancing
Dobby and the Rest of Us, Distancing (2020) is a collaborative drawing made by Lindsay McIntyre with her seven-year old daughter Alice, and presented on a billboard at Broadway and Prince Edward St.
​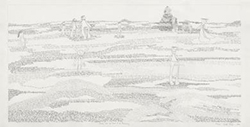 This text-based drawing created during the pandemic presents the artist's stream of consciousness writing. The figures drawn by her daughter reflect on her own preoccupations with the pandemic and social distancing, as well as the character Dobby from the books Harry Potter.
Lindsay McIntyre, Dobby and the Rest of us, Distancing, (2020),
illustration
---
Ever close (beyond now)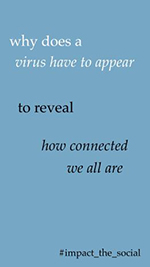 ​​​​​​​Jayce Salloum's series of works ever close (beyond now) (2020) are presented on 20 digital screens throughout the city with messages that the artist sporadically wrote through this time of quarantine. He describes these messages as "sutured manifesto disguised as poetic ramblings and rants out into the void." Trying to present something resonant and useful, his messages tackle our present point of fear, regression, pain, promise and hope, and the unforeseeable future.
Jayce Salloum's, ever close (beyond now) (2020),
digital image
---
Coast Salish Artist
Coast Salish Artist (2019), a self-portrait by the Musqueam and Coast Salish artist and carver Chrystal Sparrow, is being presented on twenty transit-shelter posters throughout the city. This is a photograph of the artist adorned in Native American regalia, a reflection on famous 19th century Native American Indian portraits that presented subjects in beadwork, traditional adornments, and fabrics from that time.
Sparrow explains: "I have found that adding these Native American regalia images to my self-portraits has delivered a significant connection to the idea of historical ceremonies practiced by wearing regalia. I also felt a sense of nobility, respect, and inspiration when a chief's regalia covered a part of my body. I also used images of salmon leather, Coast Salish formlines, berries; patterns and textures. My interest to use self-portraits has become a study of traditional art and regalia to be manifested in my work; with the intent to discover more about my Coast Salish, Cree and Shuswap art practices.
Chrystal Sparrow, Coast Salish Artist (2020),
digital image