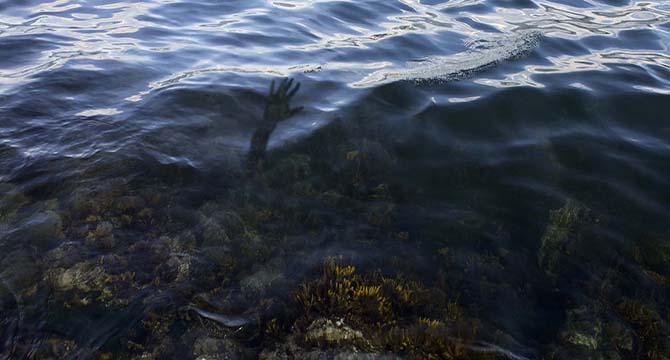 Romane Bladou, All That We Cannot Grasp, 2021
Platforms: We Are Here, Live
COVID-19 has magnified and deepened all of the social, health, and economic inequities of our society, and art-making is an important way to respond creatively to this moment. Platforms: We Are Here, Live commissioned 23 Vancouver-based and xʷməθkʷəy̓əm (Musqueam), sḵwx̱wú7mesh (Squamish), and səlilwətaɬ (Tsleil-Waututh) artists grappling with the issues revealed by a still-unfolding global pandemic.
Platform locations
Artworks will be displayed on these platforms:
Billboard at Arbutus St and West 12th Avenue
Light box at šxʷƛ̓ exən Xwtl'a7shn Plaza
Banners at Vancouver Public Library, Central Branch
Glass wall at City Centre Canada Line Station
Transit shelter posters throughout the city
VanLive! video screen, Robson St and Granville St
Digital display boards throughout the city
Current projects
Janet Wang, Holding Pattern, presented on the Canada Line City Centre Station
Holding Pattern, an illustration on cut vinyl, was inspired by artist Janet Wang's turn to books as a portal to society and far-flung notions of travelling or gathering with loved ones during the pandemic.
When reading Alexandra Chang's Days of Distraction, she came across the word hiraeth, a Welsh word without a precise English translation that the author used to describe her own father's sense of longing for a bygone era or place. The word, with its complete unfamiliarity, unsettled the artist. Its soft, shapely sound, imprecision in translation, and elegiac quality encapsulated the last few years.
This work asks, in Welsh and other languages, "what will we be after we come through this time, where will we be when we take stock of all that has been far and is now near, and all that may return?"
"To unlock a society, look at its untranslatable words"
-Salman Rushdie, Shame
Holding Pattern, Janet Wang
---
Tafui, Out of Many, presented on Vancouver Public Library Banners
Out of Many is a series of six large vinyl banners. It is inspired by the similarities of racialized and Indigenous cultures around the globe and the idea that "we belong to each other".
Tafui's practice is informed by the idea that through the understanding of our histories and shared experiences, we become united as people, as cultures, and to the earth.
Tafui, Out of Many (2021)
---
Romane Bladou, All That We Cannot Grasp, presented on šxʷƛ̓exən Xwtl'a7shn Lightbox
All That We Cannot Grasp is a set of photographs depicting the artist's shadow and is about reflection, projection, and movement. The work evokes notions of uncertainty and groundlessness. It is about trying to find rest in the tumult, but always moving with it. It is about adaptability.
It is an invitation to embrace the uncertain state we find ourselves in, and to try to situate ourselves in this blur and confusion.
Romane Bladou, All That We Cannot Grasp (2021)