Centennial Totem Pole Conservation Project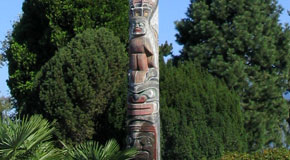 We are reviewing the future of the Centennial Totem Pole located in Hadden Park just south of the Maritime Museum in Kitsilano.
Why we're conserving the totem pole
Considered one of the great cultural artifacts of Canada, the Centennial Totem Pole was carved by the renowned Kwakwaka'wakw artist, Chief Mungo Martin, and has stood in Hadden Park since 1958. Time and weather have deteriorated areas of the pole so will remove and assess the pole for conservation.
For up to two years, our Public Art Program will review possible future restoration and conservation opportunities in consultation with a variety of stakeholders. We've initiated consultations with the descendants of carver Mungo Martin, conservators, and engineers. Musqueam, Squamish, and Tsleil-Waututh Nations have also been informed of this work.