Guelph Park public art: Dude Chilling Park sign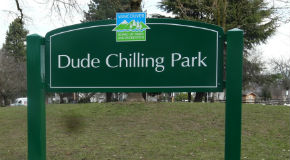 The Dude Chilling Park sign returns to Guelph Park as a donated public artwork accepted by the Vancouver Park Board.
In November 2012, the unauthorized Dude Chilling Park sign was erected in Guelph Park. The sign, which mimics standard park signs found in city parks, was removed by Park Board staff.
The Board received a request from Mount Pleasant residents, along with 1,500 signatures of support, to reinstall the sign permanently because it celebrates the unique characteristics of the park and neighbouring community.