Print
Personal training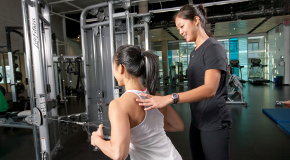 Improve your health and wellness with support from our qualified and experienced personal trainers.
Our trainers will work with you to develop a customized fitness plan designed to meet your fitness goals and fit your busy schedule.
Achieve your fitness goals quicker
Whether you are a beginner, overcoming a plateau, rehabilitating from an injury or looking for sport-specific workouts, our trainers will motivate and support you in each session.
This page has information about personal training programs at Park Board fitness centres only. Some association fitness centres also offer personal training programs. Contact the specific facility for more information.