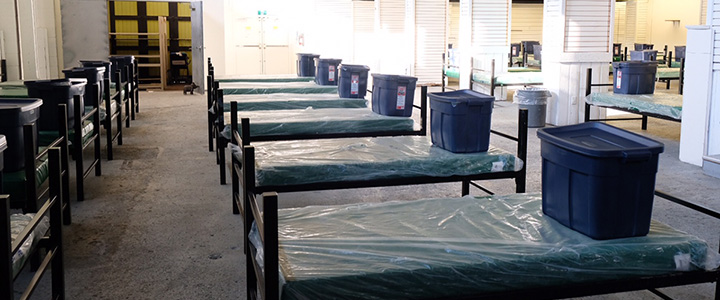 Shelters and winter response strategy
Finding a shelter bed in Greater Vancouver
Resources:
Shelters save lives by connecting homeless residents with necessary health, social, and housing services.
We're committed to ensuring all residents have a safe place to come inside, particularly during the cold winter months and other extreme weather.
There are various types of shelters in Vancouver – from permanent, purpose-built shelters, to temporary shelters, to spaces opened only during extreme weather.
We activate warming centres when the temperature drops below a certain point.
What's happening

Two new temporary shelters

In partnership with the Province, we have opened two new temporary shelters totaling 120 beds. These two new shelters are located at:
875 Terminal Ave: 60-bed shelter
5-27 West Hastings St: 60-bed shelter
Experienced non-profit operators have been selected by the Province and are on site 24/7 to support shelter guests. They provide daily healthy meals, access to laundry and showers, assistance filling out housing application forms, as well as referral to community and health services, if needed.
Finding a shelter space
Review shelter details:
Get extreme weather updates
Shelter types
Dawn Bergman's legacy
On 19 December 2008 Dawn Bergman, aka Tracy, died when a candle ignited her shopping cart. She was homeless and had turned down police offers of help because she was worried she would lose the cart that carried all her belongings. At the time, most shelters did not allow people to store their belongings.
A 2009 Coroner's Report identified the need for locations where people living on the streets could secure their buggies and carts.
Temporary shelters address this need, and serve people near the places where they reside.
We welcome feedback
The City, Province, and shelter operators will continue to respond to any issues that arise. Any concerns that are raised will be addressed as quickly and fully as possible.
Contact the City or the shelters directly to provide feedback.
homelessness@vancouver.ca
604-673-8443
Donating to shelters
Email homelessness@vancouver.ca to be put in touch with the appropriate shelter provider.