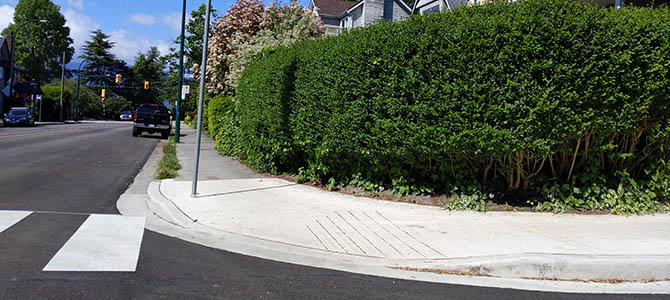 Curb ramp installations
We strive to make streets and sidewalks fully accessible for people with mobility challenges
TransLink Walking Infrastructure to Transit (WITT) Program
Curb ramps installed within 400 m of the Frequent Transit Network are partially funded by TransLink through their Walking Infrastructure to Transit (WITT) program.
The program helps local governments provide new or enhanced walking access to transit through a cost-sharing partnership.
This year, we are planning to install more than 300 curb ramps throughout Vancouver. These are in addition to the 100 to 200 curb ramps installed annually as part of the regular capital program and development projects.
The number of ramps being built in 2021 is the highest planned in recent years. It also marks the first second year of a multi-year commitment to improve accessibility across the city with construction of ramps at 600 locations identified by the public as a priority.
Why we install curb ramps
Curb ramps on street corners provide improved access for people using strollers, wheelchairs, walkers, canes, and other mobility aids.
The new curb ramps will:
Fill gaps in the existing sidewalk network
Include locations previously requested by the public
Be located along walking routes near schools, hospitals, community centres, and seniors' facilities
We do not install curb ramps at entrances to properties including resident's houses and businesses.
Project Details
Locations
Walking routes in all Vancouver neighborhoods
Expected duration
Start: January 2021
End: December 2021
What to expect during construction
Access for residents and businesses will be maintained at all times. Please ensure to follow detours during construction.
Related initiatives