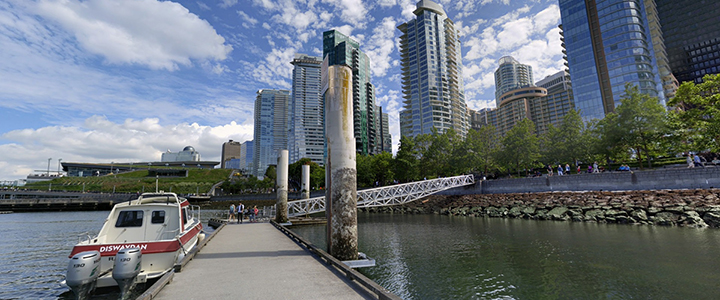 Harbour Green Dock renewal
The dock and floating walkway at Harbour Green Park are now open.
The Vancouver Park Board has repaired and renewed the facility, which was originally constructed as a pedestrian walkway and a temporary moorage space for small vessels. Over time, unauthorized use by large vessels and unfavorable wave conditions damaged the facility.
The repairs have restored the dock as a walkway and space for short-term recreational moorage and increased the platform's resilience to the conditions of the inner harbour.
Safety guidance
For those accessing Harbour Green Park by boat:
Commercial vessels are not permitted at any time
Maximum moorage time for recreational vessels is 3 hours
No vessels are permitted to moor after dusk or before dawn
When using the floating walkway:
No cycling, rollerblading, or skateboarding
Children must be accompanied by an adult

Use walkway at your own risk
Walkway may move unexpectedly with incoming waves
Contact us