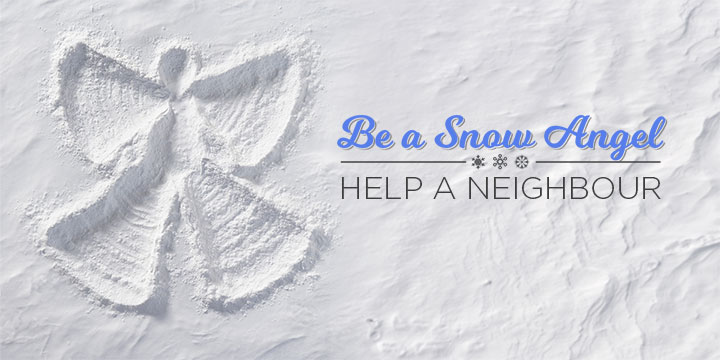 Volunteer as a Snow Angel
When there is snow and ice, getting around can be difficult, especially for seniors and people with limited mobility.
When it snows we help match-up people throughout Vancouver who have limited mobility with neighbours willing to lend a hand to remove snow and ice outside their homes.
Snow Angels assist those who are unable to obtain assistance from professional snow removal companies, members of household, friends, or neighbours.
This is one of many City volunteer opportunities that helps facilitate residents in making our city a great, vibrant, and connected community.
Request a Snow Angel
Are you a senior? Have limited mobility?
If you need help clearing your sidewalk, we encourage you to first talk to your neighbours, friends, and family members for assistance. You can also check with local community groups, schools, or churches for volunteers who may be able to help you clear your sidewalk.
If you still need a hand, contact us when it is snowing and sticking at least 1 centimeter on the sidewalk. We will try to connect you with a Snow Angel in your area.
Phone 3-1-1 to request a Snow Angel.
How it works
Upon a snowfall, make a request if you need assistance. This only needs to be done once.
A Snow Angel will be assigned to clear the public portion of your sidewalk for the season. We cannot ask Snow Angel volunteers to clear your private property pathway.
If you no longer need your Snow Angel, follow up with us so we can reassign them to someone else in need.
Contact us
By becoming a Snow Angel, you'll make a difference in a neighbour's life. Thank you for volunteering and helping your neighbours!
Become a Snow Angel
A clear sidewalk can help ensure safe access so that they can access medical appointments and receive care, and also help other neighbours get around throughout the winter.
Do you have these things?
Desire to help a neighbour in need
Snow shovel and warm clothing – we have salt that you can pick up
Good fitness and a sense of personal safety – read our safety tips
How does it work?
As a Snow Angel volunteer, you are added to a roster of likeminded helpers who receive notice when a resident with limited mobility has requested assistance.
When you're on the roster, you will:
Find adoptable locations in need (locations will appear once snow is on the ground) through)
If needed, pick up salt from a City facility to aid in your efforts
Go to adopted locations during snowfalls this winter season, when able

Present a good public image as a City representative
Wear appropriate clothing to clear snow
You are not asked to clear private property or initiate contact with residents
Please politely refuse gifts and money from those you help

If you'd like, share your experience with the Snow Angel Coordinator at snowangels@vancouver.ca
Tips for volunteers
Before you shovel
Drink plenty of water.
Dress warmly and in layers.
Wear proper shoes or boots.
Wear high-visibility clothing.
Stretch your body.
Watch your back.
Avoid caffeine and nicotine.
Avoid eating large meals.
If you're feeling unwell or are at risk of an injury, decline the request and we'll find another Snow Angel.
While you shovel
Take your time – especially with wet, heavy snow.
Take short breaks every 15 minutes.
Watch your step – don't slip on ice.
Push, don't lift.
Use your legs, not your back.
Avoid twisting.
Avoid piling snow higher than 1 m.
Avoid tossing snow farther than 1 m.
Limit the snow weight in your shovel to 6 – 12 kg, depending on your pace.