Print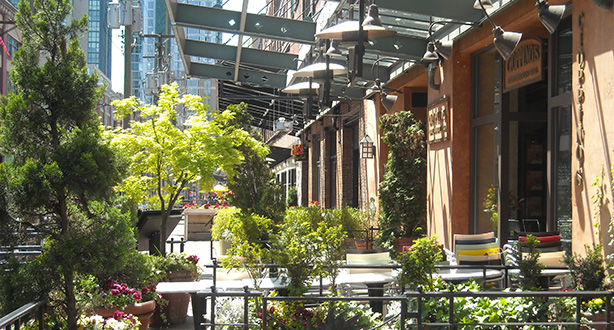 Get a patio permit for a restaurant or cafe
Permits are available for a restaurant or cafe patio located on a:
Sidewalk
Restaurant/cafe's property
Before applying for a patio permit, you need to have a current business licence allowing you to operate as a restaurant or limited service food establishment.
Temporary Expedited Patio Program (TEPP)
To support business recovery due to COVID-19, we have created an expedited patio permit. Businesses can quickly apply to convert on-street parking or sidewalk spaces into temporary patios from June 1 – October 31, 2020.
The Temporary Expedited Patio Program doesn't apply to complex patios or any patio that doesn't fall within the program.
Annual patio permits
All permits must be renewed annually except for temporary expedited patio permits. All patios applied for through the temporary expedited patio process must be removed on November 1, 2020.
This permit allows businesses to have small sidewalk patios where liquor cannot be served on the patio.
This permit lets restaurants have outdoor seating up to the sidewalk, surrounded by a railing, and is required to serve liquor on the patio.
Restaurant or cafe patios on private property require permission from the City. Download the checklist, view contact information, and more.