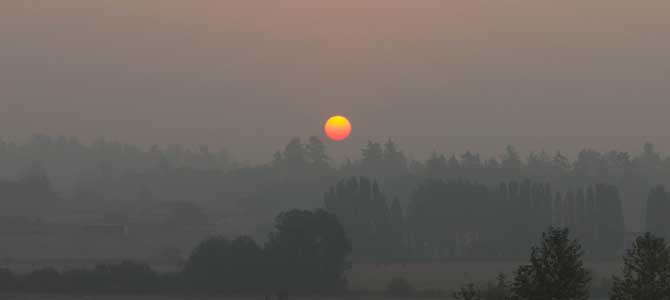 Wildfire smoke
What you need to know
Wildfire smoke can affect your health, even at low concentrations. Reducing exposure to wildfire smoke is the best way to protect your health.
Learn more about staying safe during hot weather
Hot indoor air can be more dangerous than wildfire smoke. Prioritize keeping cool when the weather is hot and there is smoke.
Check on others frequently to ensure they are safe, especially older adults and vulnerable neighbours.
Find translated partner resources
(English | Français | 繁體中文 | 简体中文 | Tagalog | ਪੰਜਾਬੀ | Tiếng Việt | فارسی | Español | 한국어| عربى)
Cleaner air space locations
If you're looking for relief from wildfire smoke, you can visit one of our cleaner air spaces in community centres or library branches with high-efficiency particulate air filtering, or MERV 13 filters. These filters help trap and reduce the small particles found in wildfire smoke.
These facilities are activated as cleaner air spaces when Metro Vancouver issues an extended air quality advisory due to wildfire smoke for the City of Vancouver.

Cleaner air space
Cleaner air space with air conditioning

Cleaner air space - entire facility
How wildfire smoke affects your health
Wildfire smoke contains small particles that can cause mild to severe health effects when inhaled. Even at low concentrations, wildfire smoke can be harmful to everyone's health. You may experience symptoms if you are exposed for a long time or if you breathe in a lot of smoky air. Call 8-1-1 for health advice.
People who are at higher risk of experiencing health effects
Individuals who are more sensitive
People with chronic health conditions, such as:

Asthma
Chronic obstructive pulmonary disease (COPD)
Heart disease
Diabetes

People who are pregnant
Older adults
Infants and small children
People who have been diagnosed with a respiratory infection
Individuals who are more exposed
People who are experiencing homelessness or are under-housed
People who live in spaces without mechanical ventilation, air filtration systems, or portable air cleaners
People who work or are active outdoors