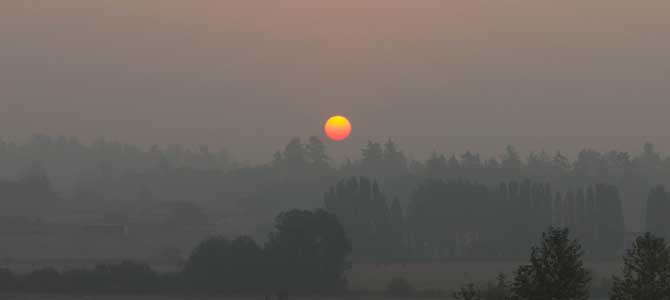 Wildfire smoke
What you need to know
Wildfire smoke can affect your health. Reducing exposure to wildfire smoke is the best way to protect your health.
Cleaner air space locations
If you're looking for relief from wildfire smoke, you can visit one of our cleaner air spaces in community centres or library branches with high efficiency particulate air filtering, or MERV 13 filters. These filters help trap and reduce the small particles found in wildfire smoke.
These facilities are activated as cleaner air spaces when Metro Vancouver issues an extended air quality advisory due to wildfire smoke for the City of Vancouver.

Cleaner air space
Cleaner air space with air conditioning

Cleaner air space - entire facility
How wildfire smoke affects your health
Wildfire smoke contains small particles that can cause mild to severe health effects when inhaled. You may experience symptoms if you are exposed for a long time or if you breathe in a lot of smoky air. Some people may be vulnerable to smoky air, even in small amounts. Call 8-1-1 for health advice.
People at higher risk of experiencing health effects are:
People with chronic health conditions, such as asthma, chronic obstructive pulmonary disease (COPD), heart disease, and diabetes
People who are pregnant
Older adults
Infants and small children
People who are experiencing homelessness
Outdoor workers