The Play Palace is open from Tuesday, April 10 - Thursday, August 30, 2018
The Kerrisdale Play Palace is a giant, indoor playground located in the Kerrisdale Cyclone Taylor Arena.
The Play Palace is ideal for families with children 12 years and under.
The playground includes:
Two inflatable bouncy castles
An inflatable obstacle course
A 22' inflatable giant slide
Ride-on cars and toys
Basketball shooting
A toddler area with padded flooring, carpet games, and lots of toys!
Birthday party registration starts January 29, 9am.
Admission
Prices include tax.
| Age | 1 visit | 10 visit | Group |
| --- | --- | --- | --- |
| Under 6 months | Free | Free | Free |
| 6 - 23 months | $3.52 | $28.13 | $3.25 |
| 2 - 5 years | $4.56 | $36.46 | $3.25 |
| 6 - 12 years | $5.06 | $40.45 | $3.25 |
Socks are sold for $2.25 per pair.
Bringing your group
Group time is available Monday to Friday, 12pm to 2pm.
Reservations are highly recommended, to avoid being turned away. Phone 604-257-8121 to reserve a date.
Rules at the Kerrisdale Play Palace
Children must be supervised by an adult at all times
All children must wear socks
Children must meet the minimum height requirements for the inflatables

32 inches for hopscotch, trilenium combo, and the obstacle course
40 inches for the giant slide and the maze

We recommend participants wear long sleeve shirts to prevent friction burns
Children must remove their shoes and wear socks in the play area (adults must remove their shoes and wear socks in the Preschool area)
Walk, do not run
Food and drinks are not allowed in the play area
The Toddler and Preschool area is for children 5 years old and under
On the slide, go feet first and on your bottom only
Adults are not allowed on any of the inflatable equipment
Contact us
Address
5670 East Blvd
Vancouver, BC V6M 3Y2
Phone: 604-257-8121
Plan your child's next birthday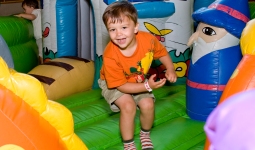 Get the information you need about our public and private birthday party options at the Play Palace.
View public drop-in times
Look up drop-in times for babies, toddlers, and children ages 0 to 12 at the Play Palace.
Neighbourhood facility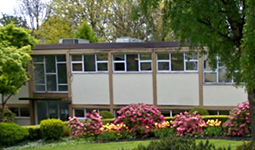 Kerrisdale Community Centre includes an indoor pool, ice rink, fitness centre, gym, games room, seniors centre, and teen/youth centre. The centre is affiliated with the Kerrisdale Arena and Maple Grove pool. It is located at 5851 W Boulevard, Vancouver, BC. 604-257-8100.