OneCard recreation pass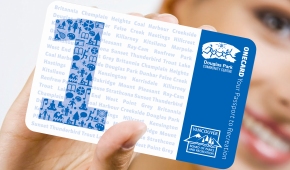 OneCard is your universal access to recreation in Vancouver.
With OneCard, you can access the entire network of Park Board pools, rinks, fitness centres, and participating community centres across the city - no matter where you live, no matter what your income level.
You can add your 10-visit pass, Flexipass, or Leisure Access pass onto your OneCard.
OneCard is your passport to staying active and having fun.
Click the Locations tab below to see where you can pick up your OneCard.

Five great reasons why you should get the OneCard
 

Universal access

OneCard provides you with universal access to the Park Board's pools, rinks, and fitness centres, and participating community centres. 

 

Improved convenience

One Card replaces the previous model of multiple membership cards and provides you with a single, system-wide pass. 

 

Customizable

OneCard can be loaded with our 10-visit pass or any of our Flexipass options, whichever best suits your needs. 

 

No cost

And best of all, it's available to everyone at no charge. 

 

Maximum inclusivity and accessibility

It also includes a built-in 50 percent Leisure Access program subsidy for qualified low income residents. 
Get your OneCard at these locations
Download the OneCard brochure with all of the information on participating locations and benefits:
For more information about hours of operation, click on the facility name below:
OneCard - your passport to recreation
What is the OneCard?
OneCard is a single card that will provide all Vancouverites with universal access to pools, rinks and fitness centres across the Park Board network and access to the city's community centres. OneCard replaces the current patchwork of over 20 cards, which includes the Flexipass and the Leisure Access Card.
OneCard can be loaded with any of the Park Board's Flexipass options and 10-visit passes, and also includes a built-in 50 percent subsidy, for those who qualify, as part of the Park Board's Leisure Access program for those with financial barriers.
OneCard is free and available to the entire community regardless of income, where you live or which facilities you choose to visit.
Universal access
OneCard has been designed to apply across all 24 Park Board community centres and is about providing universal access to the citizens of Vancouver.
In the coming months , having a OneCard will be just like having a library card. It will be the one access card you will require for everything at Park Board facilities, so we encourage the public to get their OneCard today.
Important dates
OneCard is available at all Park Board operated swimming pools, ice rinks and fitness centres, and the Britannia Community Services Centre, Strathcona Community Centre, and Ray-Cam Co-operative Centre starting July 8, 2013.
On September 1, OneCard will be available at all community centre locations. See the locations tab for information on where you can pick up your OneCard and where you can use it.
All services purchased prior to launch of the OneCard will be fully honoured. The next time you visit ask for your OneCard. The system will transfer your account details and it will then be the only card you need.
Improved convenience for recreation and fitness services
There will be no changes to Park Board pricing for recreation and fitness programs as a result of the OneCard's introduction. OneCard can be loaded with both Flexipass and 10-visit passes at current prices for use across the Park Board fitness centre network and, those who qualify for a subsidy will now be able to access the entire system. A Flexipass to access multiple fitness centres can be loaded directly onto your OneCard. The benefit of the OneCard is that everything can be booked through it -- you don't need any separate cards.
No impact on community centre programs
The OneCard will have no impact on pricing, funding for local programs, or the programs and services themselves. The Community Centre Associations will continue to receive all revenue generated by program fees including those from new core programs which will be available across the network. The Park Board will compensate the Community Centre Associations for any lost membership revenue associated with the introduction of the OneCard.
No programs will be cut, reduced, or significantly changed as a result of this initiative. In fact, some programs may be expanded or enhanced. Specialized programs (such as seniors' activities at Kerrisdale, arts and cultural programming at the Roundhouse, etc.) will continue. With the OneCard, more seniors will have access to highly-valued and effective programs like this. Additionally, it will not affect licensed child care programs; the Park Board is undertaking a review and is very committed to making childcare available across the system.
Moreover, as of September 1, the majority of Community Centre Associations will remove their membership fees as a requirement for program registration, reducing another barrier to participation.
Read the August 20 update
Public consultation
The strategic plan for the Board of Parks and Recreation, which was developed last year, identified universal public access and a single user card as an important public benefit goal. The strategic plan went through significant consultation with the public and with Parks and Recreation staff, and was adopted by the Board.
Community Centre Associations, comprised of volunteers who represent the local communities they serve, have had over 18 months of discussion with staff, and a specific committee struck by the CCAs has been discussing the details of the OneCard with Parks & Recreation staff over the last three weeks.
In addition, the Park Board has directed staff to assist the Associations with consulting the public to determine the best use across the recreation community for the $1M capital allocation in the 2013 budget. A report is expected back from the Associations at the end of September.
Staff will also hold roundtable discussions this summer with key stakeholders and the Community Centre Associations on options for core programs targeted to children, youth, seniors, and Indigenous peoples. These programs align with the Healthy City Strategy and focus on providing support at critical stages in life to populations who can easily become vulnerable.
CCA negotiations
Read about the CCA negotiations:
Photo consent form for minors
Children and youth ages 16 and under need permission from their parent or guardian before receiving a OneCard.
Get the consent form