International Women's Day 2022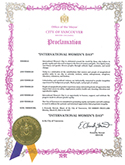 Signed proclamation (456 KB)
Last year's theme was #BreaktheBias, and we highlighted the women working at the City in a range of careers that are under-represented by women, such as Engineering, Fire and Rescue Services, Information Technology, and Trades and Operations.
We continually aim to support and improve our work toward gender parity.
The Women's Equity Strategy, approved by Council in 2018, is a 10-year initiative aimed at addressing barriers faced by cis and trans women.
#BreaktheBias: Women working at the City
Meet the inspiring women working at the City to #BreaktheBias by promoting diversity and inclusion.
Beyond March 8
While International Women's Day is a global occasion to celebrate women and people of marginalized genders, the work to achieve gender equity goes on throughout the year.
Colonial and patriarchal structures continue to oppress racialized peoples and people of marginalized genders. These systems impact people's ability to access safety, employment, justice, health care, housing, education, and reproductive rights.
We are committed to promoting equity and justice, and continue to work to address these systemic and structural oppressions that perpetuate inequities.
Learn more about the steps we're taking in advancing gender equity and anti-racism.