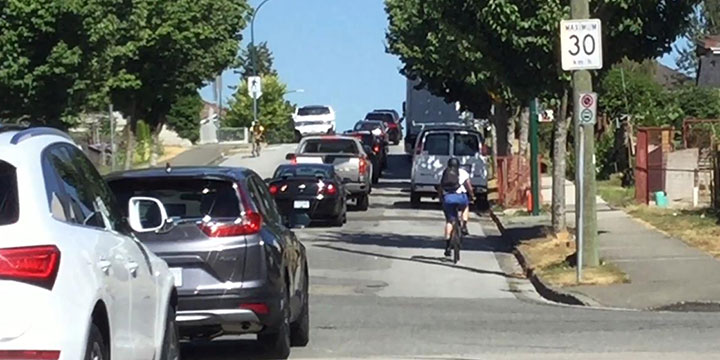 Adanac Overpass
We are working to implement traffic calming measures in the Adanac Area as part of the Neighbourhood Traffic Management Program.
In response to safety concerns from residents, we hosted a transportation Listen and Learn session in May 2017.
We worked with residents to gather and map information about transportation issues in the neighbourhood.
What's happening
In 2023, we'll be reaching out to the community to consult on traffic calming measures to help address traffic volumes and speeding in the neighbourhood.
Stay tuned to this page for more updates in the future.
Contact us
Get project updates
Project timeline
Here is our process and anticipated milestones to create and deliver these safety upgrades.
May 2017

Spring 2018

Adanac Overpass closed
Temporary U-turn system setup

Spring 2018

Fortis BC begins work on East 1st Ave
U-turn area still in place

Late 2018

Fortis BC completes work on East 1st Ave

Late 2018 -
early 2019

Ongoing monitoring of overpass closure

January 2019

Spring 2022

Data collection for new traffic calming begins

Early 2023

Consultation with community on traffic calming measures