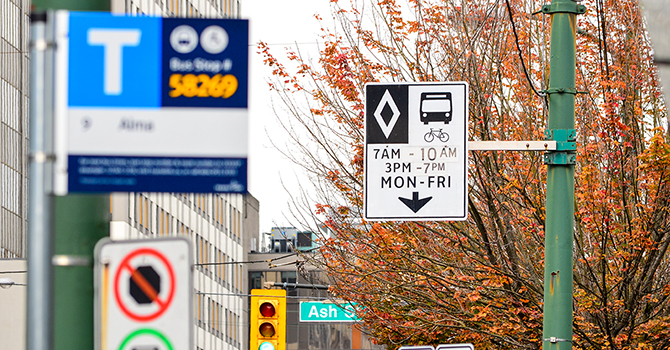 Transit project definitions
As more people choose to live, work, and play in Vancouver, we need to ensure travelling by bus is fast and convenient. We're working to achieve this through implementing bus priority measures across the city.
​​​​​​​Bus bulb
Bus bulbs are sidewalk extensions that bump out the bus stop into the parking lane.
They create more space for passengers to wait, for people walking on the sidewalk, and better public realm. They allow buses to stop in the travel lane and reduce delays from entering and exiting a bus stop.
Bus bulbs can also shorten the crosswalk if they are at an intersection.
​​​​​​​Bus priority lanes
Bus priority lanes are lanes reserved for buses, marked by signage or paint markings.
Bus lanes may operate during certain parts of the day (such as the rush hour peak), or all day and give buses priority over regular traffic, parking and curbside access.
Buses, cyclists, emergency vehicles, and taxis may use a bus lane at all times.
​​​​​​​To reduce driver confusion and prevent mixed-flow traffic, bus priority lanes can be marked with a diamond shape. This diamond symbol is not a high-occupancy vehicle lane (HOV), but a lane for a particular use - in this case, transit vehicles.
Bus stop location and spacing
Closely spaced bus stops allow shorter walks to reach bus service, but having more stops means that your travel time is slower.
Many bus routes around Vancouver have stops too close together. Removing some stops can reduce travel times for all riders.
The City supports Coast Mountain Bus Company and TransLink in their efforts to ensure stops are not spaced too close together.
Bus zone extension
A bus zone extension is a longer stretch of road that gives buses more time and space to move in and out of traffic.
These zones give buses priority over parking and curbside access.
Right-turn pockets
When vehicles make right turns, it can block traffic and buses while waiting for pedestrians to cross.
A right-turn pocket can be created by restricting a few on-street parking spaces just before an intersection. This allows the right-turning vehicle to wait in the curb lane without blocking the bus.
These work best in locations were pedestrian volumes are medium or high and there is a demand for right turns.
​​​​​​​Turn restrictions
Vehicles waiting to turn left can hold up through traffic if there is no turning lane.
Banning specific left turns can be a way to speed up bus passenger and regular vehicle journey times.
This can be an effective measure so long as there are other opportunities to turn left somewhere close by.