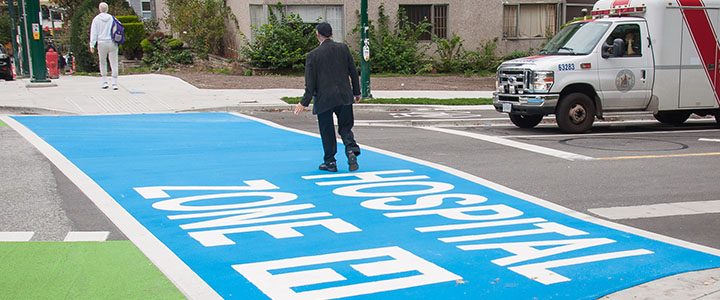 10th Ave Hospital Zone Improvements: Phase 2
We're making street improvements in the Hospital Zone along 10th Ave between Willow St and Ash St to improve safety and accessibility for all users with a focus on patient and pedestrian safety and comfort.
Work includes:
Sidewalk and pedestrian crossing improvements
Lighting upgrades
Improved passenger loading zones
New protected bike lanes
Green infrastructure improvements to enhance rainwater management
Intersection improvements such as accessible traffic signals and raised intersections
Sewer infrastructure upgrades between Heather St and Ash St
This work follows Phase 1 upgrades to the corridor, completed summer 2018, including completion of safety improvements, Hospital zone signage, and pavement markings along 10th Ave between Oak St and Willow St.
What's happening

Construction is underway
Two-way traffic on 10th Avenue from Willow Street to Ash Street has resumed
Sidewalks and bike lanes are open
Please watch for construction staging and changes to loading zones and parking in the area as work is finalized.
Details
Location
10th Ave from Willow St to Ash St
Work hours
Monday to Friday: 7am to 5pm, extended hours as needed
Weekends: as needed
---
How this project may affect you
Plan your commute
Find communication resources to help your clients plan their commute during construction on 10th Avenue.
Get updates