Protection of Trees By-law 9958
The by-law relates to trees on private property.
We are making changes to speed up permitting and reduce wait times.
When you need a permit
You need a permit to remove any tree on private property that has a diameter (width) of 20 centimetres or greater, measured at 1.4 metres above the ground.
A tree trunk with a diameter of 20 centimetres will have a circumference of approximately 64 centimetres.
You don't need a permit to remove a tree that is smaller than 20 centimetres in diameter unless the tree was previously identified as a replacement tree, or is as part of a landscape design for a new development project.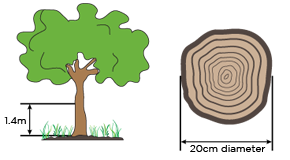 The tree permit must be posted in a visible location during tree removal.