Tree removal permit
You can apply to remove a tree when it:
Causes serious damage to your property
Is located within the building envelope defined by construction and renovation
Is dead, dying, diseased, or presents a hazard
Read the full list of reasons when you can apply to remove a tree (Protection of Trees Bylaw Section 4.5)

(25 KB)
Protection of Trees Bylaw
The Protection of Trees Bylaw defines when trees can be removed, when they must be replaced, and more. In most cases, you need a tree removal permit.

As of April 16, 2014, property owners can no longer remove one healthy tree per year from their property. City Council amended the bylaw to maintain a healthy urban forest in Vancouver and be consistent with bylaws elsewhere in Metro Vancouver.
When you need a permit
You need a permit to remove a tree or hedge on private property if you meet one of these criteria:
The tree measures at least 20 cm in diameter and 64 cm in circumference, measured 1.4 metres above the base of the tree
The tree, tree row, or hedge has more than one stem at 1.4 m above grade and the combined diameters of the largest two or three stems is at least 20 cm in diameter (64 cm in circumference)
The tree doesn't meet the size requirements but was a condition of approving a plan or permit
In most cases you will need a development or a building permit before you can apply for the tree removal permit.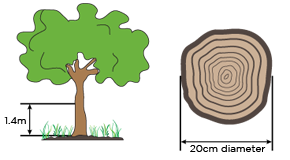 Process
Apply for a tree removal permit.
We review your complete application.
Our inspector will follow-up to confirm that the site conditions matches the plans and arborist report in your permit application.
If we approve your application, we notify you and issue your permit. The permit is valid for six months from the date it's issued.

For development sites, we issue the tree removal permit with the associated building or development permit.

Post your tree permit in a location visible from an adjacent street while you remove, move, or replace the tree.