Homelessness Services Outreach Team
COVID-19 update
December 18, 2020: Our Homelessness Services Outreach Team offices at Powell St remain open with modified hours. Carnegie Centre, Evelyne Saller Centre, and Gathering Place are open, but offering essential services only.
Our Homelessness Services Outreach Team, also known as the Carnegie Outreach Team, works closely with many community partners, including emergency shelters, hospitals, landlords, non-profit agencies, and other City departments to ensure individuals experiencing homelessness and needing assistance are connected to supports.
The primary mandate is to connect individuals experiencing homelessness, or those at-risk, to housing, income and support services.
The team works with clients in a safe and non-judgmental way to triage and case plan immediate and longer-term goals, and supports clients by removing barriers to housing, income, and supports.
In addition, BC Housing funds other Homeless Outreach Programs in Vancouver, the Lower Mainland, and across the province of BC.
The homeless outreach model of offering direct access to income assistance and housing was launched in Vancouver in 2005.
Homeless services outreach
The team assists citizens at the storefront office Monday to Friday, as well as street outreach, with additional late evening shifts between 4:30pm to 11pm, 4 to 5 days a week.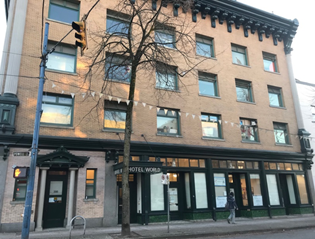 The street and alley outreach shifts provides additional support to those most marginalized in the community and the least likely to be accessing traditional social services.
Outreach staff can offer:
Assistance to find housing options and provide support with the application and move-in process
Assistance or referrals to maintain existing tenancies
Assistance to secure an income through Provincial or Federal Benefits, including applications for income assistance, employment insurance, pensions
Referrals to emergency shelters for a place to sleep, wash, and eat
Assistance to obtain identification, including applying for and safely storing identification
Referral to emergency shelters, health care, counselling, clothing, detox, and addiction services
Immediate assistance such as emergency first aid and emotional support
Harm reduction supplies such as needle exchange and safer sex supplies
If you are concerned about someone sleeping outside in Vancouver, do not hesitate to connect with the team.
Community involvement
Outreach staff lead and participate in community events centered around homelessness in partnership with the Carnegie Community Centre, and other local agencies providing staff and peer resources.
In partnership with Vancouver Coastal Health, staff also host a weekly health and wellness program for marginalized women at the Downtown Eastside Community Health Centre.
The program provides meals, connection and services to women in the community.
Contact us
The Homelessness Services Outreach Team's storefront office operates on a first come, first serve basis.
Location
392 Powell St
Vancouver, BC
V6A 1G4
Hours
Monday to Friday (closed statutory holidays)
9am to 4pm
Drop-in, no appointments
Mailing address
401 Main St
Vancouver, BC V6A 2T7
Office: 604-665-3318
Outreach cell: 604-968-1825
Fax: 604-665-3074
carnegie.outreach@vancouver.ca

If you're concerned for a citizen's immediate medical distress, please call 9-1-1.
Housing Vancouver Strategy
For more information, news about housing, and City of Vancouver policies, visit Housing Vancouver.
Community contacts
Contacts for community homelessness services: