Stanley Park Mobility Study data collection
What you need to know
Beginning summer 2021, the Vancouver Park Board is collecting anonymous information on visitation to Stanley Park.
For a 12-month period, with the possibility of extension, we are collaborating with Numina to install five sensors in the park to help understand:
How many people visit the park
How visitors are traveling through the park (walking, cycling, driving, tour bus, or other)
When people visit the park
Which areas are the most popular
This information will help inform future planning work, including the Stanley Park Comprehensive Plan and the Stanley Park Mobility Study. Specifically, it will help:
Improve mobility patterns and safety throughout the park
Protect sensitive cultural sites that are significant to Musqueam, Squamish, and Tsleil-Waututh Nations
Understand priorities, park visitation pattern changes, and forecast trends
More effectively manage service levels and resource allocations, and save resources by ensuring budgets are being allocated effectively
Help in the restoration of forest, wetland, and shoreline habitats and ecosystems
Ensure the park's protection, restoration, and resiliency for the next generations
How the sensors work
The Numina sensors currently deployed in Stanley Park are intended to measure transportation volumes and direction of travel at the facilities on which they are located. This includes pedestrians, cyclists, and vehicles over time periods of interest. Learn more about how the sensors work
The sensors are able to tell the difference between different modes of transport, but cannot record detailed personal characteristics of how many people are in a vehicle or the age of visitors. The Numina sensors are designed to protect people's privacy while helping us learn about how people are moving through the park. We are able to use self-identified public survey data to determine vehicle occupancy information.
Data is collected in real-time and can be analyzed over periods of interest, such as hourly or daily. This allows our team to combine this data with other information, such as weather records, events, and holidays.
For the Stanley Park Mobility Study, we are using the Numina data alongside numerous other data sources, including StreetLight "Big Data", public survey results, and parking demand information. As well, historical information from past studies was used to determine longer-term trends in visitation numbers and the number of users on specific facilities, such as the seawall. For more details about the mobility data collected, refer to the Mobility Context Report (Appendix A) . (4.6 MB)
Numina's mission is to empower cities with data so they are safer, healthier, and more equitable for the people who live in them. Numina's sensors use an algorithm to assess anonymous movement patterns in the public realm.
Numina and the Park Board believe that people should know how and why data is being collected and used in the public realm. Learn more about Numina's privacy-first approach to measuring street-level activity .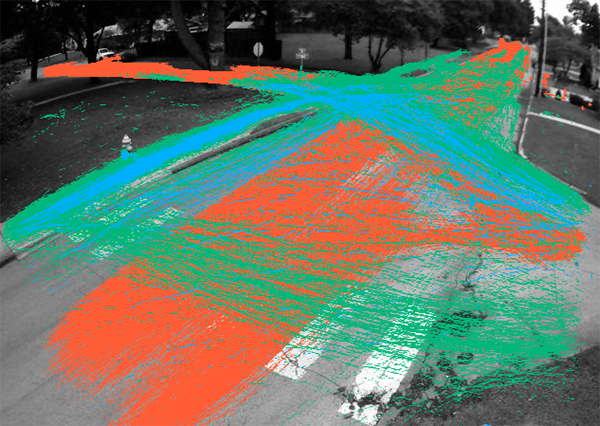 This image shows how Numina sensors visualize data collected of bicycles, pedestrians, and cars interacting at a park roadway in Arkansas. Image courtesy of Numina.
Protecting your privacy
Your privacy comes first. This project meets all requirements of the BC Privacy Act. Numina was designed from the start with privacy as a concern, and takes a privacy-first approach to data collection. Learn more about Numina's privacy philosophy and policy .