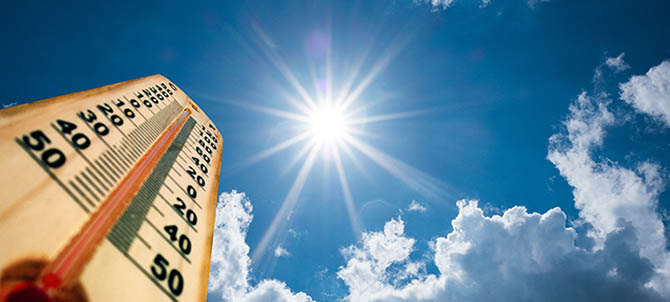 Stay safe in the summer heat
When it's summer in Vancouver and the days get hotter, it's important to remember that even in temperate, coastal BC, heat can be harmful.
While heat can harm anyone, some are especially vulnerable:
Seniors and children younger than five years old
People with pre-existing illnesses or taking certain medications
People who are isolated or experiencing homelessness
Outdoor workers
People with addictions who may be more likely to be dehydrated as a side effect of substance use
Anyone who isn't acclimatized to our weather
Anyone left in a closed car or in direct sun including pets
Check in by phone, video chat, or in-person from a safe distance with anyone who is vulnerable to the heat or who is less able to leave home due to COVID-19.
Symptoms of heat-related illness and heat exhaustion
Watch for the following symptoms as signs of heat-related illness and heat exhaustion:
Extreme thirst
Dizziness
Confusion
Weakness
Fainting
Rapid breathing and heartbeat
Nausea and vomiting
If you see someone suffering from too much heat, call 9-1-1 and help them cool off by applying water to their face and neck until emergency services arrive. You can also call 8-1-1 to speak to a nurse. Interpretation services are available on these phone numbers.
More information on heat-related illness from HealthLink BC (translations available)
Tips to keep cool
Stay out of the sun as much as possible
Plan ahead for where you can spend time in a cool or air-conditioned place, and seek shade when outside while staying 2 metres apart from others
Wear a wide-brimmed hat, lightweight, loose-fitting clothing, and sunscreen
Avoid strenuous activity and exercise
Drink plenty of cool fluids such as water before you feel thirsty
Fill up your water bottle at one of our drinking fountains, including temporary fountains that are set up during heat waves
Outdoor shaded parklets
We have increased the number of public spaces where people can keep cool and physically distanced while outdoors by installing parklets at:
VCH Clinic, 59 West Pender St
VCH Clinic, 569 Powell St
DTES Women's Centre, 302 Columbia St
These parklets offer shade under tree canopies, or shade tents during the day.
Shade is also available under tents at 58 W Hastings St, with seating and a water misting station on site.
Cooling centres
Temporary cooling centres will be activated when Environment Canada issues a heat warning, or when Vancouver Coastal Health issues an extreme heat alert.
Cooling centres have air-conditioned spaces where people can cool down. Safety measures to prevent the spread of COVID-19 will be in place.
During a heat warning or extreme heat alert, cooling centres will be open from 11am to 7pm at the following community centres:
The above locations are not open outside of a heat warning or extreme heat alert.
The following community centres will also operate as cooling centres during their open hours:
The City is funding Atira Women's Resource Society to open a daily drop-in centre for cooling at the Japanese Language School, 487 Alexander St, on weekdays, 11am to 5pm. During a heat warning or alert, this will open on weekends too.
Air quality
In the event of an air quality advisory, cleaner air spaces will be activated at the following community centres:
These sites offer a limited number of spaces with high efficiency particulate air (HEPA) or MERV 13 filtering, which can support people struggling with respiratory issues.