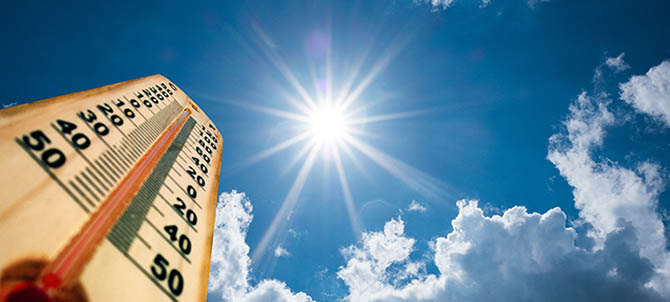 Stay safe in the summer heat
What you need to know
When it's summer in Vancouver and the days get hotter, it's important to remember that even in temperate, coastal BC, heat can be harmful.
While heat can harm anyone, some are especially vulnerable:
Older adults and children younger than five years old
People with pre-existing illnesses or taking certain medications
People who are isolated or experiencing homelessness
Outdoor workers
People with addictions who may be more likely to be dehydrated as a side effect of substance use
Anyone who isn't acclimatized to our weather
Anyone left in a hot environment like a closed car, or in direct sun
Check in with anyone you know who is vulnerable to heat or who lives alone.
Symptoms of heat-related illness
Symptoms of heat illness can range from mild to severe and occur when your body is unable to cool itself. The following symptoms of heat exhaustion are signs to cool down for a few hours and drink plenty of water:
Skin rash
Heavy sweating
Nausea and/or vomiting
Rapid breathing and heartbeat
Headache
Difficulty concentrating
Muscle cramps
Extreme thirst
Dark urine and decreased urination
Dizziness or fainting
Symptoms of heat stroke are severe and require immediate medical care:
High body temperature
Dizziness or fainting
Confusion
Lack of coordination
Very hot and red skin
If you see someone suffering from too much heat, call 9-1-1 and help them cool off by applying water to their face and neck until emergency services arrive. You can also call 8-1-1 to speak to a nurse. Interpretation services are available on these phone numbers.
More information on heat-related illness from HealthLink BC (translations available)
Tips to keep cool
Stay out of the sun as much as possible.
Plan ahead for where you can spend time in a cool or air-conditioned place, and seek shade when outside.
Wear a wide-brimmed hat, lightweight, loose-fitting clothing, and sunscreen.
Avoid strenuous activity and exercise.
Drink plenty of cool fluids, such as water, before you feel thirsty.
Fill up your water bottle at a water fountain.
Cool down at a misting station.
Where to keep cool
Some community centres and most public library branches have air-conditioned spaces where you can cool down on a hot day.
These facilities become cooling centres when Environment Canada issues a heat warning or Vancouver Coastal Health issues an extreme heat alert. Learn more about our different levels of heat response.
Location
Hours during heat warning
Britannia Community Centre
1661 Napier St
Daily, 9am to 8pm
Carnegie Community Centre
401 Main St
Daily, 9am to 11pm
Evelyne Saller Centre
320 Alexander St

Monday to Friday, 9am to 11pm

Saturday to Sunday, 10am to 10pm

Gathering Place
609 Helmcken St
Daily, 9am to midnight
Hillcrest Centre
4575 Clancy Loranger Way
Daily, 9am to 8pm
Kerrisdale Community Centre
5851 West Blvd
Daily, 9am to 8pm
Killarney Community Centre
6260 Killarney St
Daily, 9am to 8pm
Marpole Community Centre
990 W 59th Ave
Daily, 9am to 8pm
Mount Pleasant Community Centre
1 Kingsway
Daily, 9am to 8pm
Ray-Cam Community Centre
920 E Hastings St
Daily, 9am to 8pm
Roundhouse Community Centre
181 Roundhouse Mews
Daily, 9am to 8pm
Vancouver Public Library branches
Hours vary
Other places to cool down
We have nine indoor and five outdoor seasonal pools. View their locations, features, and amenities.
Find spray parks and wading pools in Vancouver – the perfect way to cool down in the city on a hot summer day.
Wildfire smoke
Wildfire smoke can often occur at the same time as hot weather.
If you're struggling with respiratory issues due to wildfire smoke, you can visit one of our cleaner air spaces in community centres or library branches with high efficiency particular air filtering, or MERV filters.
Vancouver Public Library branches at Central, Mount Pleasant, Renfrew, and Terry Salman also provide cleaner air spaces (hours vary).