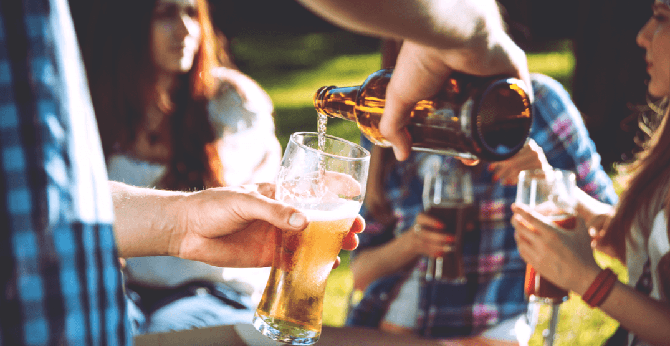 Alcohol in parks pilot
To meet public demand, we are extending the pilot program from June 3 to October 16, 2022, to allow the responsible consumption of alcohol at 22 parks around the city.
Responsible alcohol consumption is allowed in 22 parks across the city, as part of a pilot program to understand how people consume alcohol legally in our parks.
Except for areas where drinking is prohibited - such as playgrounds, sports fields, community centres, and other designated places – people can bring their own alcoholic beverages to enjoy in the 22 parks listed below.
Please be respectful to other park users, always drink responsibly, and clean up after yourself.
Parks where drinking is allowed
Drinking is permitted in some of Vancouver's most popular parks. The parks included have amenities like washrooms, garbage and proximity to other services to ensure that parks remain well maintained and tidy.
Public consumption of alcohol is allowed at these parks between the hours of 11am and 9pm daily, from June 3 to October 16, 2022:
Collingwood Park
David Lam Park
Fraser River Park
Granville Park
Harbour Green Park
John Hendry (Trout Lake) Park
Kitsilano Beach Park / Hadden Park
Langara Park
Locarno Beach Park
Maple Grove Park
Memorial South Park
Memorial West Park
New Brighton Park
Pandora Park
Queen Elizabeth Park
Quilchena Park
Riverfront Park
Robson Park
Rupert Park
Stanley Park (southwest corner)
Vanier Park
Volunteer Park
Where drinking is permitted in parks
We expect people consuming alcohol in parks to use their common sense, drink responsibly, and respect other park users. Drinking is permitted throughout areas of parks listed above, except for areas:
Within 20 metres of a playground, school, or natural area
Within 5 metres of a pool, splash park, or water park
In, on, or within a:

Beach, pond, lake, or dock
Seawall, roadway, parking lot, or building entrance area
Garden or horticultural display area
Sports field, sports court, skate park, fitness amenity, or pitch and putt golf course
Community centre, fieldhouse, or washroom
Designated off-leash dog area
Additionally, some areas may be temporarily restricted when in use for recreational programs or special events.
Maps of where alcohol can be consumed at each of the 22 parks can be found below:
Designated drinking sites in parks
By City of Vancouver
Designated drinking site at Collingwood Park

By City of Vancouver

Designated drinking site at David Lam Park

By City of Vancouver

Designated drinking site at Fraser River Park

By City of Vancouver

Designated drinking site at Granville Park

By City of Vancouver

Designated drinking site at Harbour Green Park

By City of Vancouver

Designated drinking site at John Hendry (Trout Lake) Park

By City of Vancouver

Designated drinking site at Kitsilano Beach Park

By City of Vancouver

Designated drinking site at Langara Park

By City of Vancouver

Designated drinking site at Locarno Beach Park

By City of Vancouver

Designated drinking site at Maple Grove Park

By City of Vancouver

Designated drinking site at Memorial South Park

By City of Vancouver

Designated drinking site at Memorial West Park

By City of Vancouver

Designated drinking site at New Brighton Park

By City of Vancouver

Designated drinking site at Pandora Park

By City of Vancouver

Designated drinking site at Queen Elizabeth Park

By City of Vancouver

Designated drinking site at Quilchena Park

By City of Vancouver

Designated drinking site at Riverfront Park (west)

By City of Vancouver

Designated drinking site at Robson Park

By City of Vancouver

Designated drinking site at Rupert Park

By City of Vancouver

Designated drinking site at Stanley Park (southwest)

By City of Vancouver

Designated drinking site at Vanier Park

By City of Vancouver

Designated drinking site at Volunteer Park

By City of Vancouver
About the pilot
Pilot timeline
December 2018

Park Board Commissioners direct staff to develop a feasibility study for a pilot allowing the consumption of alcohol in select parks

July 2020

Pilot approved for 22 park sites but implementation requires amendments to the BC Liquor Control and Licensing Act to allow liquor to be consumed within Park Board jurisdiction

June 2021

BC Liquor Control and Licensing Act amended, allowing the Park Board to enact the by-law necessary to launch the pilot

July 2021

First pilot launches to the public

October 2021

December 2021

Staff report back to Park Board Commissioners with data and key findings from the pilot

February 2022

Park Board commissioners direct staff to extend the pilot to 2022 with consideration to lessons learned from the first pilot

May 2022

Pilot approved for the same 22 park sites with changes to drinking area boundaries

June 3, 2022

Second pilot launches to the public
Resources and documents
Contact us
Other projects