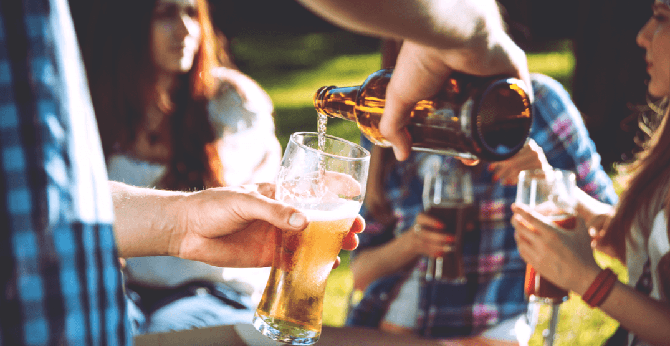 Alcohol in parks pilot
To meet increasing public demand, the Park Board developed a pilot program to allow the responsible consumption of alcohol in designated drinking sites within 22 Vancouver parks.
The pilot was created to:
Provide more outdoor spaces for social connectivity - in particular, residents who have no access to a private yard and rely on parks for socializing with friends and family
Respond to current resident needs in the wake of COVID-19, recognizing that the pandemic will continue to affect peoples' ability to relax and connect with others for some time
Test and monitor potential impacts of consumption of alcohol in parks
Within these designated drinking sites, people can bring and enjoy their own alcoholic beverages. Please remember to drink responsibly, be respectful of other park users, and dispose of waste correctly.
What's happening

Share your thoughts

We want your feedback on the Alcohol in Parks Pilot. Your input will help to ensure these spaces are properly maintained, comfortable, and serving the community.
Parks where drinking is allowed
Public consumption of alcohol is allowed at these pilot sites between the hours of 11am and 9pm daily, from July 12 to October 11, 2021:
Collingwood Park
David Lam Park
Fraser River Park
Granville Park
Harbour Green Park
John Hendry (Trout Lake) Park
Kitsilano Beach Park / Hadden Park
Langara Park
Locarno Beach Park
Maple Grove Park
Memorial South Park
Memorial West Park
New Brighton Park
Pandora Park
Queen Elizabeth Park
Quilchena Park
Riverfront Park
Robson Park
Rupert Park
Stanley Park
Vanier Park
Volunteer Park
Designated drinking sites in parks
By City of Vancouver
Designated drinking site at Collingwood Park

By City of Vancouver

Designated drinking site at David Lam Park

By City of Vancouver

Designated drinking site at Fraser River Park

By City of Vancouver

Designated drinking site at Granville Park

By City of Vancouver

Designated drinking site at Harbour Green Park

By City of Vancouver

Designated drinking site at John Hendry (Trout Lake) Park

By City of Vancouver

Designated drinking site at Kitsilano Beach Park

By City of Vancouver

Designated drinking site at Langara Park

By City of Vancouver

Designated drinking site at Locarno Beach Park

By City of Vancouver

Designated drinking site at Maple Grove Park

By City of Vancouver

Designated drinking site at Memorial South Park

By City of Vancouver

Designated drinking site at Memorial West Park

By City of Vancouver

Designated drinking site at New Brighton Park

By City of Vancouver

Designated drinking site at Pandora Park

By City of Vancouver

Designated drinking site at Queen Elizabeth Park

By City of Vancouver

Designated drinking site at Quilchena Park

By City of Vancouver

Designated drinking site at Riverfront Park (west)

By City of Vancouver

Designated drinking site at Robson Park

By City of Vancouver

Designated drinking site at Rupert Park

By City of Vancouver

Designated drinking site at Stanley Park (southwest)

By City of Vancouver

Designated drinking site at Vanier Park

By City of Vancouver

Designated drinking site at Volunteer Park

By City of Vancouver
Pilot timeline
December 2018

Park Board Commissioners direct staff to develop a feasibility study for a pilot allowing the consumption of alcohol in select parks

June 2020

Park Board Commissioners receive a pilot program proposal for 10 parks, but ask staff to expand the pilot to include parks in each neighbourhood across the city

July 2020

Pilot approved for 22 park sites but implementation requires amendments to the BC Liquor Control and Licensing Act to allow liquor to be consumed within Park Board jurisdiction.

June 2021

BC Liquor Control and Licensing Act amended, allowing the Park Board to enact the by-law necessary to launch the pilot.

July 12, 2021

Ongoing
About the pilot
Resources and documents
Contact us
Other projects