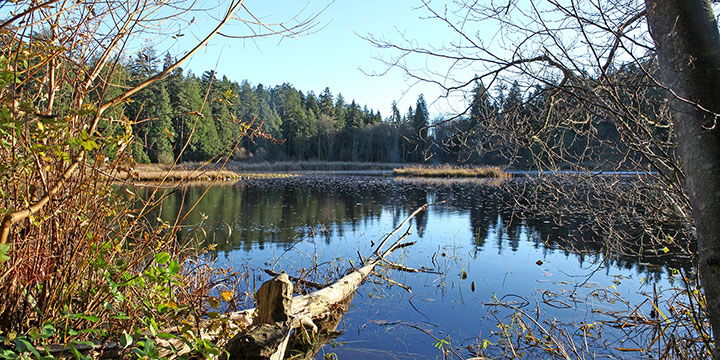 Enhancing Beaver Lake
Beaver Lake is an important part of Stanley Park's ecology, a popular recreational site, and of cultural and spiritual significance to Coast Salish First Nations.
As one of Vancouver's few freshwater lakes, enhancing Beaver Lake is an important, short-term priority for the Vancouver Park Board.
Recent developments with this project
Phase one of the Beaver Lake Enhancement Plan complete
Spring 2021 - The new robust outlet structure has been successfully installed. This means the water levels in Beaver Lake will be stabilized throughout the year, ensuring there is sufficient water through the dryer summer months for the native species that inhabit the lake and its creeks.
Enhancement Plan Implementation
Fall 2018 - We are implementing the enhancement plan in phases. The consultant team is now developing construction drawings and budgets for project implementation. It is anticipated that work around the outlet and on the bog boardwalk will begin in early 2019.
Consultant team conducting additional investigations
Beginning in 2016 - The consultant team has been undertaking additional field investigations that will inform detailed design and working drawings, expected by spring 2018. Working around sensitive environmental windows, such as bird nesting, these investigations include additional sediment analysis, geotechnical analysis, and exploring alternate sources of water.
Park Board adopts concept plan
October 27, 2014 – The Park Board approved the plan to restore and maintain Beaver Lake in as natural a state as possible, reflecting direction from the public and First Nations. The plan calls for dredging the lake, creating islands for mammal and fish habitat, and building viewing platforms and a boardwalk.
Project team developing the preferred concept
August 5, 2014 – We have reviewed your commentary on the lake-enhancement proposals that we presented in November 2013. We are now developing a preferred concept that we will recommend to the Park Board for approval in October 2014. The concept would be built in phases. Funding is being considered as part of the Park Board 2015-2018 Capital Plan.
Tell us what you think about the proposal for enhancing Beaver Lake
November 21, 2013 - If you were unable to attend our open houses on November 21 or 23, you can still tell us what you think about our proposed plan for enhancing Beaver Lake. Please review the proposal in the "Documents" tab, and then fill out our questionnaire.
The questionnaire is open until December 31, 2013.
Attend the late November open houses on Beaver Lake's future
November 5, 2013 – The scientific investigation of Beaver Lake is underway and the consultant team is creating recommendations on how to enhance it in an ecological and culturally sensitive way. Come to the November 21 or 23 open house to review and comment on options developed by the consultant team.
Date: Thursday, November 21, 4:00pm – 8:00pm
Location: Lobby, Coal Harbour Community Centre, 480 Broughton Street

Date: Saturday, November 23, 12:00 noon – 4:00pm
Location: English Bay Room (upstairs), West End Community Centre, 870 Denman Street
Park Board retains a consultant to study how to restore the lake
April 24, 2013 – A team of consultants led by AquaTerra Environmental Ltd. was awarded the contract and will complete wildlife and vegetation assessments of Beaver Lake in spring and summer 2013.
November - December 2012 – The Park Board announced a bidding opportunity for a consultant to:
Assess Beaver Lake vegetation and wildlife
Develop options for a public consultation process on protecting Beaver Lake's biodiversity and aesthetic value
Report back to the Board with a recommended vision and strategy to save the lake
Stanley Park Ecological Action Plan prioritizes Beaver Lake infilling
January 2011 – The Park Board unanimously approved the Stanley Park Ecological Action Plan to improve the ecological integrity of the park. One of the five priority areas of concern includes Beaver Lake's rapid infilling. The Plan stresses the importance of protecting and enhancing rivers, lakes, and wetlands within Stanley Park.
Approved enhancement plan
Open house information boards and feedback
November 2013 open house
Background plans and reports
Project type
Project status
Key dates
| Date  | Event  |
| --- | --- |
| Spring – summer 2013  | Vegetation and wildlife assessment  |
| November 2013 | Open house to review and discuss plans to restore the lake |
Aerial images
Work leading up to this project
Early efforts to control sedimentation
The Vancouver Park Board made two attempts in the early 1900s to control the flow of sediment into Beaver Lake: removing dead trees and debris around the lake edge in 1911, then dredging the lake bottom in 1929.
Since 1916, the City of Vancouver has supplied Beaver Lake with potable water to maintain temperature, oxygen, and water levels.
Recent studies recommend different solutions
In 1984, the Vancouver Park Board contracted Hatfield Consultants Ltd to study possibilities of enhancing Beaver Lake. Hatfield found that:
Beaver Lake was very shallow, less than 0.5 m deep in most parts
Sediments were mostly 3 to 4 m deep and accumulating at 1.36 cm per year, meaning that the lake could disappear by 2020
Water was too warm and too low in oxygen to support salmon and trout
To improve water quality and fish habitat, the consultant recommended dredging at least half the lake.
Later, in 1999, UBC Environmental Sciences students examined the lake's increasing sediments, ecology, land-water relationships. The research team concluded that:
Minerals formed 60% of overall sediments, and that these inorganic sediments have grown at a faster rate than natural sediments since roads and trails were built
City water supply mitigates the seasonal water level changes in Beaver Lake and prevents it from drying up in summer
The students recommendations included reducing the rate of inorganic sedimentation, resurfacing or installing boardwalk trails, managing stormwater drainage better, and creating settling ponds to collect silt. Students also suggested turning off the water supply in the winter.
Timeline
Year 
Event 

1860s-1880s

Clear-cut logging on the south side of the lake

1911

Perimeter trail and drainage barrier constructed

1916

Prospect Creek fish hatchery and fresh water supply pipe constructed

1929

Lake dredged to increase depth and size, and to remove sediment

1936

Water lilies introduced to mark the City of Vancouver's 50th anniversary

1938

Stanley Park Causeway constructed, reducing Beaver Lake's drainage basin

Lake size: 6.7 hectares (67,000 square metres)

1980s

50% of alder trees on the south side of the lake are replaced with conifers, as part of an incomplete forest management plan

1984

Hatfield Consultants Ltd. studied possibilities to enhance the lake, recommending to dredge at least half to improve water quality and fish habitat

Water lilies occupy 50% of the lake's surface

1992 

Park Board's Stanley Park Task Force considered three options to manage Beaver Lake, preferring to enclose the area for two years and introduce two moose for eating water lilies and naturally dredging the lake (not implemented)

1996

Beaver Lake Environmental Enhancement Project community volunteer group formed, in partnership with the Park Board, to protect the lake, maintain its biodiversity, encourage community stewardship, and create an interpretive program

1997

Lake size: 3.9 hectares (39,000 square metres)

1999

UBC Environmental Sciences students researched the sedimentation, ecology, and hydrology of Beaver Lake and recommended changing trail materials, create settling ponds for silt, and turn off the water supply in winter

Water lilies occupy 70% of the lake's surface

2010
Stanley Park Ecology Society releases the State of the Park Report for the Ecological Integrity of Stanley Park which draws attention to the poor state and declining trend of Beaver Lake's ecosystem and instigates the call for an ecological action plan for Stanley Park

2011

Park Board approves the Stanley Park Ecological Action Plan, and prioritizes Beaver Lake restoration

2013

Contract awarded to consultant to assess wildlife and vegetation
Stanley Park Ecology Society
The Stanley Park Ecology Society connects thousands of people with nature each year through school and public programs.
Volunteer with the Stanley Park Ecology Society, or attend one of their events!
Donate to Stanley Park
Leader in greening

More about the Park Board
Visit Stanley Park
Vancouver's Stanley Park is a world renowned park and tourist attraction. Learn more about what to see and do in this magnificent green space.