Dog off-leash areas
Dogs are welcome in all of Vancouver's parks and must be on leash unless they are in a designated dog off-leash area.
Dogs are only allowed at beaches with designated off-leash areas.
Dog etiquette in parks
You are responsible for the actions of your dog. You must:
Pick up and dispose of your dog's waste
Have a valid licence for your dog

Animal Control Bylaw enforcement takes place at all parks and beaches throughout the year. If you don't follow the bylaw, you may be fined between $250 and $2,000.
Red bins for dog waste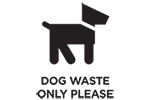 Place your dog waste in the red bins provided at select city parks.
Part of our dog waste collection pilot project.
Find a dog off-leash area in Vancouver
Dogs in parks resources
Our strategy for creating safe, engaging park spaces for people with and without dogs.