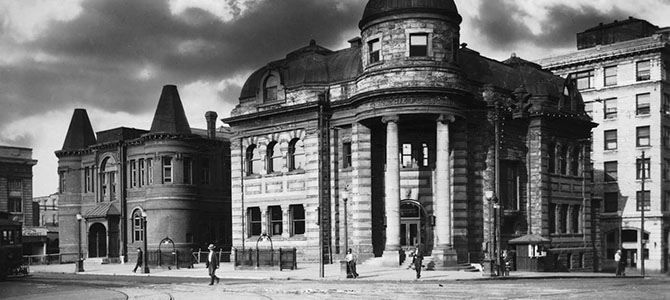 Donate to Carnegie Community Centre
On March 19, 1901, the City's library board held a meeting during which they approved the gift of $50,000 from Andrew Carnegie under the condition that the City would invest $5,000 per year for the maintenance of the library.
Today, donations continue to play an important role for Carnegie Community Centre. Our programs rely on donations, funding, and grants.
History of Carnegie
Vancouver's Carnegie Library was one of 125 public libraries funded across Canada by Andrew Carnegie between 1903 and 1925.
In 1957, a new central library was built which ended the Carnegie's tenure as the city's main branch. The Carnegie closed for almost a year and, after renovations, reopened as The Vancouver Museum. The Museum closed on November 6, 1968, with its collection put in storage or auctioned off.
Between 1968 and 1980, a city-wide debate took place over what to do with the building. The Downtown Eastside Residents Association (DERA), led by Libby Davies, Jean Swanson, and Bruce Eriksen, proposed turning the building into a community centre which included a library. This proposal was ultimately approved in 1978.
Since the Carnegie Community Centre reopened on January 20, 1980, it has provided a safe and welcoming space for anyone who walks through its doors. The Centre is known as the "Living Room of the Downtown Eastside," and is a place of respite, connection, and safety in the community 365 days per year.
How to donate
Online
Donate online via PayPal here:
By cheque
If you want, attach a note or write in the memo area of your cheque which program or program area you want to receive the support. Make your cheque payable to:
Carnegie Community Centre Association,
401 Main Street,
Vancouver, BC V6A 2T7
Tax receipts
All donations of $20 or more are issued a charitable donation tax receipt. If you provide a mailing address, a tax receipt will be mailed to you.