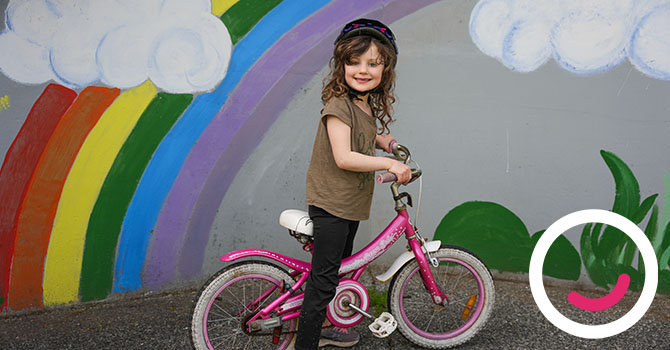 Walk Bike Roll Mini Grant Program
Key dates for 2023 to 2024 Mini Grants
Applications open: September 25, 2023
Application deadline: November 3, 2023
Schools notified of grant decision: November 20, 2023
Project delivery: January 1 to June 14, 2024
Report deadline: June 14, 2024
Annual Walk Bike Roll Mini Grants of up to $500 are available to Vancouver public elementary and secondary schools through the School Active Travel Program. This program is a partnership with the Vancouver School Board.
Grants support projects and activities that encourage and promote students walking, cycling, or rolling to school.
Applications are open
Submit an application by November 3 to be considered for the program. Forty Walk Bike Roll Mini Grants are available to schools for the 2023 to 2024 school year.
Apply for the Walk Bike Roll Mini Grant
Spotlight: Bike Bus at General Gordon Elementary
General Gordon Elementary ran a weekly bike bus program throughout the spring with the support of the Walk Bike Roll Mini Grant. A bike bus is a group of students traveling to school by bike with the support of 1 or more adults that pick up students (like a school bus) as they make their way.
Eligibility and requirements
Program impact since 2018
63 school projects supported
$31,000 in grant funding awarded to schools
9,022 students impacted by school-led projects
Walk Bike Roll Mini Grants - Featured projects
By City of Vancouver
Cunningham Elementary - Bike Kitchen
Cunningham Elementary - Bike Kitchen

By City of Vancouver

We worked with Our Community Bikes to provide the bike kitchen. Students and families were able to get basic repairs done to their bike so they were safe to ride. They learned basic skills to maintain their bikes and were able to get repairs for larger issues. Families were so pleased to be able to bring their bikes to the school for repairs and tune-ups. It was a great community builder. Families chatted while they waited and learned how to do basic repairs. We plan to continue with the bike kitchen in September, every Wednesday after school, and will add interactive Gr. 7 repair classes during school hours so students can work on their own bikes. We are also encouraging students to participate in the "Our Community Bikes Youth Bike Club."

Sir James Douglas Elementary - Walk to School Wednesday

By City of Vancouver

Our project was a school-wide campaign to promote walking to school. Students were encouraged to walk to school on Wednesdays. The PAC community was enthusiastic and supported us. Those that live out of catchment were encouraged to get dropped off a block or two away and walk. I noticed that even on rainy days students walked to school, especially on Wednesdays. The campaign will lead into spring bike, walk, and scoot to school week where they will give out walking safety whistles as walk-a-thon prizes.

Tecumseh Annex - Scooter Education

By City of Vancouver

With the Walk, Bike, and Roll to School Grant, Tecumseh Annex was given the motivation to bring awareness to the positive impact and the fun in walking, biking, and rolling to school. With the funds that we received, we purchased ten scooters. We have been teaching and practicing scootering skills. It has been well received and a very exciting program for the kids. We believe that many students will be talking about the fun they have and be confident to want scooters of their own and ride them to school! The Walk, Bike, and Roll project was supported by our Physical Education Teacher. She takes care of all of our class and gym prep and she does much of the teaching surrounding this event. She plans to continue teaching and talking to students about keeping up a healthy lifestyle.

Lord Selkirk Elementary - Bike Train

By City of Vancouver

Each Monday morning from November 8 to December 13 we held two bike trains. We had 15 cyclists in one train on our busiest day. It drew a lot of attention and it did increase safety for the kids while being positive for parents. The weather was frightful but the biking quite delightful. We plan to continue in the spring and hopefully many of the "fair weather" cyclists who enquired will join.

Eric Hamber Secondary - Hamber's Fall Go by Bike Week

By City of Vancouver

This project encouraged students to log their trips for Go by Bike Week by serving riders snacks as a reward and incentive. We also used this opportunity to promote proper bike locking technique and informed students about visibility during the winter, road safety, and the services our Hamber Bike Club provides. To those who logged trips, we offered bike safety and maintenance equipment, which included their choice of a bike light, patch kit, or tire levers. Those who logged the most trips and distances chose from prizes of a bike pump, transit passes and Our Community Bikes t-shirts.

David Lloyd George Elementary - Walking Around the Neighbourhood

By City of Vancouver

Upper intermediate students go for weekly or biweekly walks around our neighbourhood. The walks allow students to judge time and distances as they explore the neighbourhood and promote walking as a means to move to get to places on foot, especially school. Many students are walking to local businesses, school, or their friends' homes instead of being driven. Fewer students are being driven to school as older students are encouraged to walk. This encourages independence and knowledge of the community.
Contact us
Related projects