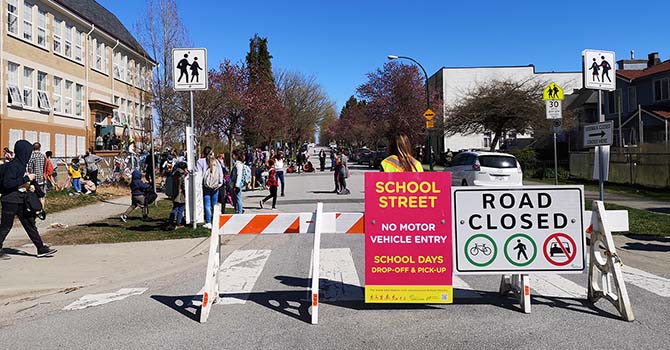 School Streets
What you need to know
Encouraging active travel to school is part of our Climate Emergency Action Plan. We partnered with the Vancouver School Board to pilot School Streets at three local elementary schools in spring 2021.
We are expanding the School Streets program for the 2021-22 school year.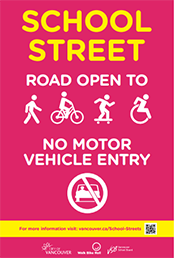 A School Street is a car-free block beside a school open to walking, biking, and rolling during pick-up/drop-off (30 to 45 minutes depending on location).
No motor vehicles are permitted to enter or exit the block when the School Street is in effect but parked vehicles may remain.
School Streets is a popular program in many jurisdictions around the world and has been shown to:
Create a safer environment for children
Improve air quality
Encourage active travel to school and promote independent mobility
Reduce congestion and vehicle volumes around schools
Support physical distancing needs due to COVID-19
Pilot highlights
29% of families reported driving less
32% of families reported walking more
76% of parents want the School Street to continue
Read the report (2.6 MB)
We are currently exploring how to expand the School Streets program for the 2021 to 2022 school year, and plan to launch School Streets at new schools in spring 2022.
Current School Streets
Lord Roberts Elementary:
Street closure to motor vehicles: Comox St between Bidwell St and Cardero St
Dates: Wednesday, September 8, to Thursday, June 29, school days only
Time in affect: 8:40am to 9:10am and 2:40pm to 3:30pm
View School Street diagram (16 KB)
Learn more and get involved
Contact us
Related projects