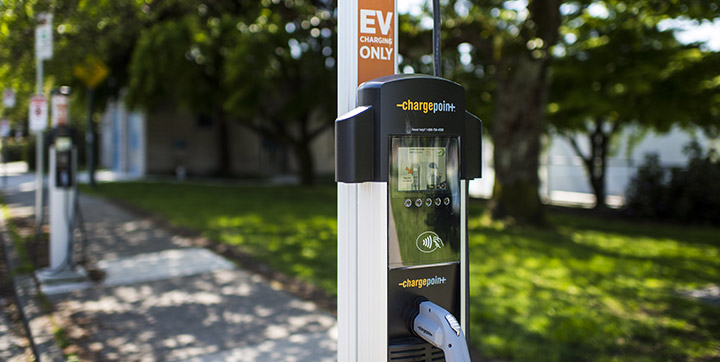 Curbside Electric Vehicle Pilot Program
This pilot program has ended.
The Curbside Electric Vehicle (EV) Pilot program supports the growth of EVs by increasing access to home and public charging. Learn how you can apply to have an EV charging station installed on the City boulevard in front of your home or business.
The program is open for both residential and non-residential property owners until filled. The pilot program has ended.
Residential applicants
There will be 15 stations permitted under this pilot. Only homeowners in RS/RT zones are eligible.
If EV charging can be accommodated on your property with a driveway or lane access, a curbside EV charging station installation will not be considered.
Parking restrictions remain the same as per the street signage. Installation of a charger in no way reserves the parking spot.
Non-residential applicants
There will be five stations permitted under this pilot. Property owners or authorized tenants may apply for the non-residential program.
Parking is restricted to electric vehicles connected to the charging station at non‐residential curbsides.
Considerations
Before applying for a curbside electric vehicle charger, we encourage you to discuss your application with your neighbours.
Other considerations include:
All installations must be completed by a registered licensed electrical contractor.
Charging stations must be listed and certified for outdoor use.
Charging a fee for use of the electric vehicle supply equipment is prohibited.
You are responsible for all costs and maintenance.
You will also be required to sign a licensing agreement and carry the appropriate level of insurance.
Read our guidelines (328 KB)
Next steps
Staff are now focusing on developing a neighbourhood level charging strategy that will allow a broader range of residents to access close-to-home charging.
We recognize that residents want close-to home charging and we are working to grow the public EV charging network.
Contact us to apply
For all other inquiries on electric vehicles, contact us at: