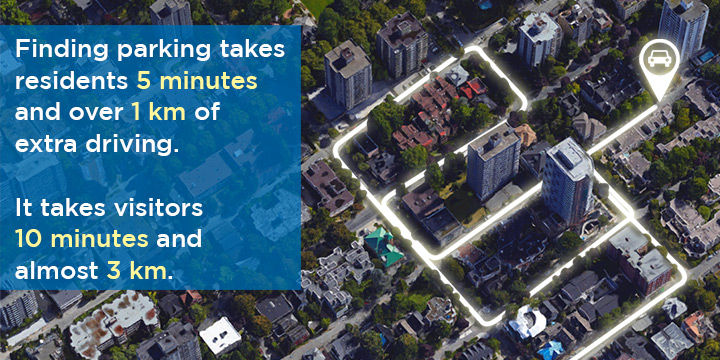 West End Parking Strategy
We are working to make parking in the West End easier
It's hard to find parking in the West End resident parking permit zone whether you live there or visit someone who does. To find parking during busy periods, it takes:
Residents about 5 minutes and over 1 km of extra driving
Visitors about 10 minutes and almost 3 km of extra driving
Our goal is to make it easier to find parking in the West End permit zone without encouraging more driving overall.
The strategy responds to community-identified concerns and supports actions in the Transportation 2040 Plan and West End Community Plan.
Timeline
Here is our process and anticipated milestones to create and deliver the strategy.
2015-2016

Feb 2017

City Council approves the Strategy

June 2017

Some visitor parking converted to pay parking

Sept 1, 2017

Market-based permit prices begin

Dec 2017

Council approves the framework for a West End Pilot Participatory Budgeting process

Sep 2017 - 2018

Data collection to inform visitor and permit parking space conversions

Feb 2019

Staff update of the participatory budgeting process to Council

March 2019

Council approves by-law changes for long term resident allowance

April 2020
Past updates
September 1, 2017
West End permit fees increased on September 1, 2017. Permit prices increased to the market rate of $360 per year. The non-market rate is available to residents who purchased their 2017 or 2018 permit before September 1, 2017 and to residents in low-income households. Learn more about the non-market rate.
Any incremental increase in revenue from market rate permit sales will be re-invested in the West End to help deliver community-identified needs.​
February 2017
We revised our recommendations based on what we heard in Phase 2. Key updates included:
Reduce the proposed new permit rate from $50 to $30 per month. Let renewing permit holders keep existing rates.
Explain how residents can help decide how to spend new permit revenues.
Provide details on parking options for people with limited mobility.
Offer a reduced permit cost for low-income households to the West End.
City Council approved the recommendations.
July – August 2016
We created draft recommendations based on what we heard in Phase 1 and asked for your feedback at two open houses and in an online questionnaire.
Read our Phase 2 public consultation summary

(500 KB)
November – December 2015
We surveyed and engaged over 4,000 West End residents to:
Better understand parking issues
Test support for various tools that could improve parking
Share ideas
Read our Phase 1 public consultation summary

(1.1 MB)