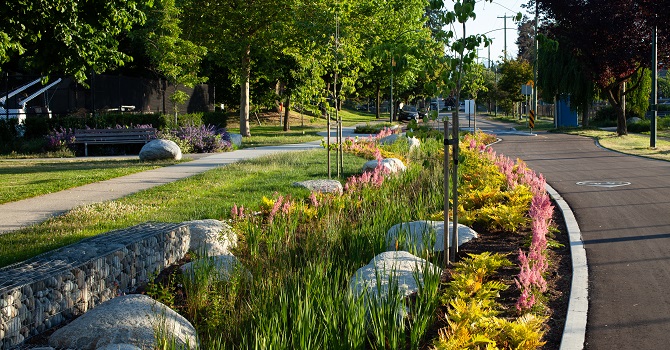 Rainwater integration in the Still Creek watershed
We're exploring ways to better manage rainwater in the Still Creek watershed, and restore its natural water cycle, by using green rainwater infrastructure.
By adding features like wetlands, rain gardens, and rainwater tree trenches to existing parks and roads, we can slow down, capture, and filter rainwater.
These projects can help to:
Improve water quality
Create habitats for wildlife
Manage floods
Reduce urban heat
Make nature more accessible
Government of Canada's Natural Infrastructure Fund for rainwater integration projects throughout the city.
These projects are partly funded by the
Get updates
Sign up for our mailing list to receive updates about key events and new information related to these projects.
Please confirm your subscription
Click the link in the email we just sent you.
Have you heard of 6PPD-quinone?
6PPD-quinone is a chemical from car tires that is toxic to coho salmon, rainbow trout and other fish.
Recent research has shown that rain gardens can filter more than 90% of this toxic chemical before it reaches our waterways.
What's happening

This project is in early exploratory phases

Throughout 2023, we'll be:
Engaging Musqueam, Squamish, and Tsleil-Waututh to understand their priorities for these sites
Consulting key stakeholders and Still Creek watershed stewards to help shape these projects
Sharing information with neighbours through signage and webpage updates
Check back for updates or join our mailing list.
Enhancements by location
Related plans and policies
Contact us