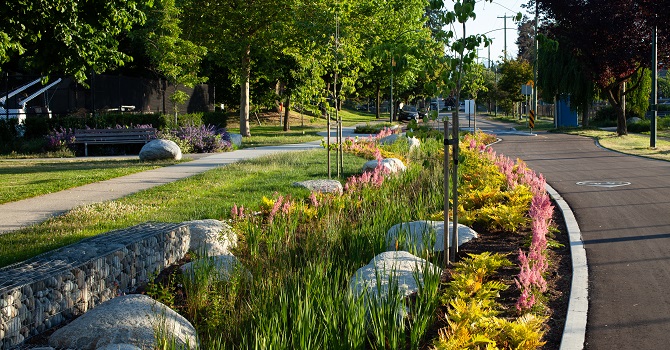 Rainwater integration in the Still Creek watershed
We're exploring ways to better manage rainwater in the Still Creek watershed, and restore its natural water cycle, by using green rainwater infrastructure.
By adding features like wetlands, rain gardens, and rainwater tree trenches to existing parks and roads, we can slow down, capture, and filter rainwater.
These projects can help to:
Improve water quality
Create habitats for wildlife
Manage floods
Reduce urban heat
Make nature more accessible
What's happening

This project is in early exploratory phases

Throughout 2023, we'll be:
Engaging Musqueam, Squamish, and Tsleil-Waututh to understand their priorities for these sites
Consulting key stakeholders and Still Creek watershed stewards to help shape these projects
Sharing information with neighbours through signage and webpage updates
Check back for updates or join our mailing list.
Enhancements by location
Falaise Park
Enhancing a naturally managed ravine to support rainwater capture from City storm sewers
Adding terraces to slow and capture rainwater, improving water quality before it flows into Still Creek
Charles Park
Transforming the existing small pond into a rainwater capture and storage system
Re-grading the park to enable rainwater storage, reducing reliance on chlorinated drinking water
Beaconsfield Park
Addressing drainage issues, including seasonal flooding
Creating a seasonal wetland to capture rainwater and mitigate flood impacts
Slocan Park
Introducing a rain garden in the north-west corner of the park, near Slocan and E 29th
Capturing runoff from the park and surrounding streets, improving water management
Cornett Road
Installing rain gardens, riparian plantings, and rainwater tree trenches
Treating polluted rainwater runoff to enhance water quality in Still Creek
Related plans and policies
Get updates
Please confirm your subscription
Click the link in the email we just sent you.
Contact us