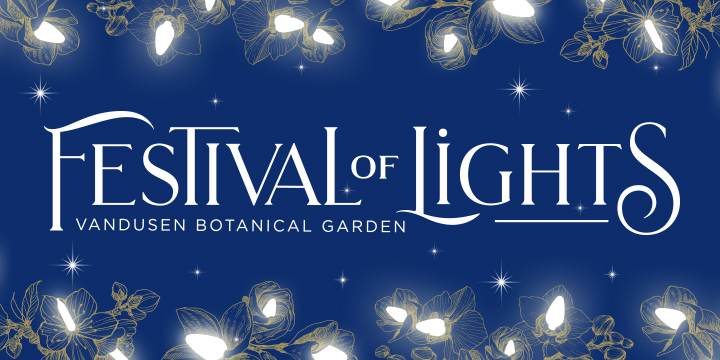 VanDusen Festival of Lights - November 24 to January 7
Event details
Step into a botanical wonderland this holiday season at VanDusen Festival of Lights. Explore 15 acres adorned with over 1 million twinkling lights, featuring a glowing display inspired by the vibrant colours and unique plants and animals from BC's endangered Garry oak meadows.
Get in the holiday spirit with the infamous Dancing Lights, explore themed light areas, and savour tasty treats from a variety of food vendors. There are 3 Dancing Lights sets this year. Enjoy the show every 20 minutes from the top of the hour.
Don't forget to stop by the Scottish Shelter to light a candle and donate to our charitable partner, Make-A-Wish.
What's happening

Tickets available now
Tickets must be purchased online in advance for a designated entry time.
Tickets are not sold on-site.
Online ticket purchases for VanDusen Festival of Lights will be directed to our third-party ticketing provider, ShowPass. The City of Vancouver is not liable for the security of the information shared with ShowPass.
Hosting a holiday event?
Festival of Lights rental packages are available during the holiday season.
All rental clients receive 10% Festival of Lights tickets for the day of their event rental.
Review the rental brochure (4.12 MB)
Donate to Make-A-Wish
Make-A-Wish returns to Festival of Lights for the 22nd year. Stop by the Scottish Shelter to light a candle and make a donation to Make-A-Wish. Help us spark joy and create hope in the lives of children living with critical illnesses.
Make-A-Wish accepts debit and credit only. Cash is not accepted.
Connect with us