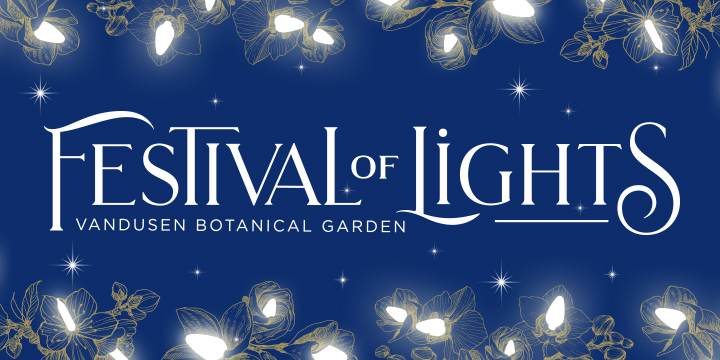 VanDusen Festival of Lights
Get your tickets online
We highly recommend buying tickets in advance to save money, skip the line, and secure your spot.
There is a maximum number of online tickets available each night and we are likely to sell out from December 14 to 24.

A limited number of tickets will also be available at the gate. The best time for walk-up entry is after 8pm.
Hours of operation
| Dates | Hours |
| --- | --- |
| November 30 to December 24 | 4pm - 9:30pm |
| December 25 | Closed |
| December 26 to January 5 | 4pm - 9:30pm |
Festival of Lights tickets make a great stocking-stuffer for friends, family, co-workers, and clients.
Gate pricing is inclusive of GST. Online pricing is inclusive of GST and online service fees.
Premium nights are December 7, 8, 14, 15, and 21 to 29
Adults (19-64 years)
| | Online price | At the gate |
| --- | --- | --- |
| Regular rates | $19 | $21 |
| Premium nights | $22 | $24 |
Seniors (65 and up) and youth (13-18)
| | Online price | At the gate |
| --- | --- | --- |
| Regular rates | $14.50 | $16 |
| Premium nights | 17.50 | $19 |
Garden (VBGA) members with valid card
| | Online price | At the gate |
| --- | --- | --- |
| Regular rates | $14.25 | $15.50 |
| Premium nights | $16.75 | $18 |
Children (4-12 years)
| | Online price | At the gate |
| --- | --- | --- |
| Regular rates | $11.50 | $13.75 |
| Premium nights | $13.50 | $14.75 |

Free for children ages 3 and under
Group sales
Group tickets are available for groups of 25 or more and are priced at the adult premium online rate. The group tickets are hard copy and valid for any event night.
Ticket details
Coupons, discount offers, and admission vouchers are valid for regular daytime garden admission, but not for special events including VanDusen Festival of Lights. These include the Tourism Challenge Privilege Pass, Vancouver Inspiration Pass, Leisure Access Pass, and Entertainment Book coupons, Viator vouchers, and VanPass vouchers
VBGA member rates are available online only for those with current memberships
Hard copy tickets are priced at premium gate admission rates and are available for purchase from admissions at VanDusen Botanical Garden during regular day time garden hours. They are valid for any event night
There will be a limited number of tickets available at the gate each night, space permitting
Carousel
What else brings on more holiday cheer than a ride on a carousel amidst a beautifully lit setting. From grandkids to grandparents, it's family fun for everyone.
All tickets include a free ride on the carousel.

Suitable for ages 2+ and children 36" and taller. Parents are not permitted to hold babies on the carousel. Operator guidelines apply.
Dancing lights
Be mesmerized by lights dancing to music on Livingstone Lake, once every 20 minutes.
Santa's Lodge
Families, kids, and couples alike can take photos with Santa in the Visitor Centre halls until December 24. This is now a free experience included with entry.
Santa will be on-site from 4:30pm to 6pm and 7pm to 8:30pm every night. This area is licensed. Choirs, singers, and bands will be performing on select nights. Check back for the full entertainment schedule.
Fireside Lounge
Nestle under our new heated tent with fire pits located in the heart of the garden.
Make-A-Wish® BC and Yukon - Candle Grotto
Make a donation to our charity partner, Make-A-Wish® BC and Yukon, and make a wish while you light a candle to fill this picturesque grotto.
Recycled rhythms
Let your kids have some fun making music with recycled instruments.
Tinsel tunes
Play the piano and sing along to holiday tunes in the garden.
Selfie spots and photo ops
Look out for frames, sets, and other selfie spots throughout the show and make sure to share with #VanDusenFOL
Portobello West Winter Wonderland Market
Open December 16 to 23
Local artistry and superior craftsmanship is on display at Portobello West, Vancouver's nod to London's world-famous street market.
Shop goods including jewelry, sustainable textiles, and hand-poured candles from BC's top emerging artisans at this special Winter Wonderland pop-up edition, chock-full of pretty pieces for everyone!
Portobello West is Vancouver's original "shop local" market established in 2006, and only not-for-profit with a mandate of supporting local creatives. Visit this pop-up market at VanDusen Festival of Lights.
The entire event area is not licenced, but specialty beverages will be available to visitors 19 years and over at Shaughnessy Win Bar, Truffles Café, and Santa's Lodge. Vendors include:
Chickpea
Cin City Donuts
Fireside Lounge
Japadog
Potato Tornado
Reel Mac and Cheese
Shaughnessy Lounge
Shaughnessy Restaurant
Shaughnessy Wine Bar
Tin Lizzy Concessions
Truffles Café
Truffles Hot Drink Hut
Washrooms
Full-service washrooms are located in the Visitor Centre.
Portable toilets are outside the garden entrance and inside the garden.
Weather
If there is heavy snow, wind or other extraordinary weather conditions, VanDusen Festival of Lights may close. A recorded message at 604-257-8463 will provide confirmation. For updates, follow us on Facebook and Twitter .
Accessibility
Most paths are paved and fully accessible for wheelchairs.
The Heather Garden, Black Garden, and Gingko Garden are not fully accessible with narrow gravel pathways.
There are a very limited number of wheelchairs available for use, on a first come, first served basis.
Dress for the weather and wear comfortable shoes as most of the event is outdoors in the garden.
Pets
Dogs and pets are not permitted into the garden, except for BC certified guide and service dogs.
Other considerations
No smoking or vaping of any kind is permitted at the garden.
Bicycles, scooters, and skateboards are not permitted in the garden.
Strollers and wheelchairs are welcome.